Punchline
(1988)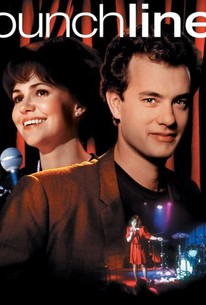 Movie Info
Sally Field goes the Roseanne route in Punchline. Field plays a housewife and mother who suddenly develops the urge to be a comedienne. Her comic instincts are on target, but her timing and delivery stinks. Tom Hanks, a stand-up comic with a few years' experience under his belt, offers to teach Field the ropes. As they get to know each other, Hanks and Field begin to pick up on each other's shortcomings; though Hanks has far more talent than Field, for example, he has a positively ruinous habit of expressing his deep-down dislike of everyone else in the world, and this frequently alienates his audience. Writer-director David Seltzer times Punchline like a good joke; he continually sets up for the expected, then pulls a last-minute fast one, keeping the film lively and unpredictable throughout. The supporting cast, coincidentally including future Roseanne star John Goodman, is uniformly superb.
Critic Reviews for Punchline
Audience Reviews for Punchline
David Seltzer, could written much better Punchline. Unfortunately, he don't did that. Still, continue being a interesting view of stand-up comedy world.
Lucas Martins
Super Reviewer
Hanks is magnetic as a naturally gifted comic whose funny is the direct result of being a lousy human being. Somehow though he befriends I-want-to-be-more-than-just-a-housewife Fields and so they help each other in the toxic environment that is stand-up comedy. It held my interest, especially Hanks whose struggle against self-destruction is riveting.
Kevin M. Williams
Super Reviewer
Two great actors, one boring, predictable, unfunny script about comedians who fall in love. This movie could have been way better.
Punchline Quotes
| | |
| --- | --- |
| Steven Gold: | I'd say anything to a woman, I'd say I love her, I'd say she's beatiful, I'd say she's sexy... I don't mess around "funny". |
| Steven Gold: | I'd say anything to a woman, I'd say I love her, I'd say she's beatiful, I'd say she's sexy... I don't mess around 'funny'. |
| | |
| --- | --- |
| Steven Gold: | All of our lives are funny, we're god's animated cartoons. |