Punisher: War Zone
(2008)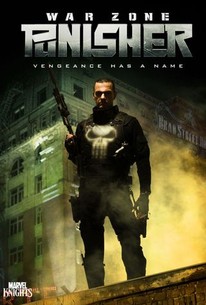 TOMATOMETER
AUDIENCE SCORE
Critic Consensus: Punisher: War Zone recalls the excessively violent, dialogue-challenged actioners of the 1980s, and coincidentally feels two decades out of date.
Punisher: War Zone Photos
Movie Info
Marvel Comics' vigilante character The Punisher gets another big-screen outing in this third film incarnation of the character, this time from Green Street Hooligans director Lexi Alexander. Fueled by revenge and aided by his trusted weapons expert, Microchip (Wayne Knight), vigilante Frank Castle (Rome's Ray Stevenson) turns the New York City streets red with blood as he takes down each and every member of the crime syndicate responsible for the death of his wife and two kids. As the law-appointed "Punisher Task Force" closes in on him, the antihero does battle with Billy Russoti (Dominic West), aka Jigsaw, a nickname given by him to reflect the disfigurement handed to him by Castle. With the help of his psychotic brother, Loony Bin Jim (Doug Hutchison), Jigsaw recruits the criminals of the city to band together to bring down The Punisher, using the wife (played by Dexter's Julie Benz) and daughter of a slayed FBI agent as bait. Art Marcum, Matt Holloway, and Nick Santora provide the screenplay for the Lionsgate release. ~ Jeremy Wheeler, Rovi
Critic Reviews for Punisher: War Zone
Audience Reviews for Punisher: War Zone
A mere four years after the 2004 Punisher film, we get the release of this little film, which, like the 2004 entry, is another reboot. Well, I say reboot, but it also feels like a quasi sequel at times, even though it ultimately sets out on its own course. Why they felt the need to reboot things so soon is beyond me, though. This time around, not only do we get the standard plot of Castle waging a war on crime vigilante/guerrilla style, we finally get the inclusion of Castle's tech support sidekick Microchip, as well as the source material villains Jigsaw and Loony Bin Jim. To start, this film, simply put, looks great. The production values are outstanding. I think they sometimes went a bit too overboard with the neon, but it does at least give the film a distinctive look and style. There's a tight pace, and, when it comes to the violence, this film really delivers the goods, getting quite graphic and gory at times, Whereas the 2004 version focused more on the drama and tactical side, this one goes all in on the brutality aspect, no doubt pleasing those who weren't fond of the 2004 one. And while I do think the violence is a highlight of this one, I think that maybe they put too much focus on it, and as a result, the film feels like the violence is the main point of things, and only there for the sake of it. I do have to give props to the fact that there's a woman at the helm for such a balls-to-the-wall actionfest, as too few women are present in the world of action films. Lexi Alexander proves she can hold her own with this type of stuff, but unfortunately, this film suffers from the lack of a great script, or any kind of meaningful depth and substance. Given the material though, the film is well cast and features some passable acting. I enjoyed Tom Jane's work, but I think that Ray Stevenson, so far, has done the best as Frank Castle/The Punisher. It's also nice seeing Wayne Knight back on the big screen, though it seems he once again disappeared after making this one. Dominic West and Doug Hutchison are also fine as Jigsaw and Loony Bin Jim, respectively. My only hope is that if another of these films is made, they make it a direct sequel, keep Stevenson in the lead, keep the level of violence/gore from this movie, add in the drama and intensity from the 2004 film, use the gritty aesthetics and tone from the 1989 film, either keep Alexander as director, or get someone like John McTiernan to helm it, and get someone like Garth McInnes or anyone else who wrote the comics to pen the script. If all of that is done, then there might finally be a Punisher film that is 100% in every way like the comics.
Chris Weber
Super Reviewer
½
Second reboot for this troublesome franchise and this time they finally get the casting right. Ray Stevenson is brought in as the main man and in my opinion he looks spot on for the role, kudos to the casting team. As for the film well its a bit weak in plot really, very straight forward, very basic, how can I put this...its like Tim Burton's Batman accept replace the 'Joker' with 'Jigsaw' and add extreme violence. Sooooo bottom line I fudging like it baby!. The origins are skipped for this entry which is good, we get flashbacks but that is acceptable, we don't need all the family massacre stuff again. The film gets right into the action with easily the best sequence of the film. A mansion full of mob bosses and henchmen cannon fodder ripe for the Punisher to exterminate. This one sequence is a pure joy to watch for action aficionados, the lights go out and our antihero appears from nowhere, he then proceeds to gun down everyone in sight with a few neck snaps and knife kills thrown in. From then on its into the traditional and dated yet still workable plot line of a particular mob boss getting horribly disfigured whilst at the same time thought to be dead, only to come back for revenge. So its pretty much the plot line for the Joker completely copied, well you could say the same thing for almost all the Batman villains really. First impressions for the Punisher are good, his outfit has been changed and upgraded with some heavy military police style body armour including a thick collar section, a mass of highly top of the line weaponry and his skull logo remains intact emblazoned upon his chest piece. He pretty much looks like he's just stepped out of a SWAT armoury and its the perfect look in my view. Its up to date and would be a realistic take on what someone would wear if this were a real situation. The black leather biker look is gone, that's the more fantasy based look. Twas amusing when Castle blasts a bad guys face off with a big shotgun whilst at the same time holding this little girl. If that doesn't mess her up later on in life nothing will. The bad guy is also highly enjoyable played by Yorkshire born Sheffield lad Dominic West. I was very impressed with his Noo Yawk dialect (hard thing to achieve) and with the sadistic humour he gave to his character Jigsaw. I'm trying not to mention a certain Batman villain here but one does tend to think of him whilst watching this film. I mean lets be frank here (no pun intended), this could easily be a Batman flick if your replaced Castle with Wayne and Jigsaw with the Joker, I think we'd all like to see a really sadistic violent Joker. The film can't quite keep up the pace for the full run time I gotta admit, the finale is a bit anti climatic. The whole idea is very cliched really, Jigsaw goes off to recruit lots of thugs from various quarters (Chinese, Irish and blinged up black gangsters), they all hole up in Jigsaw's hideout and await Castle. It all feels a bit 'Batman Forever-ish' with all these different gangs, half expected the interior of Jigsaw's lair to light up in neon when the battle started. So yes the whole idea for this film is pretty dated, its very cliche, very 80's, but I don't think that's a bad thing I really don't. I still can't quite understand why this flopped as its a fast paced, nasty gunfest with Castle kicking ass, what more do people want?. For me this is the best version of the Punisher so far. Anyone else think West's performance as Jigsaw kinda looked and sounded like Al Pacino? seriously is that just me??. The more I think about it the more I think Pacino would have been great in that role, Castle vs Scarface.
Phil Hubbs
Super Reviewer
½
As far as the Punisher films are concerned, this film has got to be the most accomplished, action packed and over the top film of three films. This is a pure pop corn flick, one that has a pretty decent story, but never anything great. However this film delivers a solid hour and a half of thrills that any Punisher fan will love. For my money, Warzone is a much better film that the version with Thomas Jane. I find that Ray Stevenson was a perfect Frank Castle, and he definitely brought a melancholic intensity to the role. That was something that lacked in the 2004 version. This is a flawed, but very entertaining film; Warzone delivers something that previous Punisher films didn't. This film has some very eccentric villains, which make the film that much an exciting action romp. In my book, this is the same category as The Expendables. Short on a great plot, and good acting, but delivers on great action. Of all the Punisher films that have been made, this is the best one that has yet to be made. As far as superhero films are concerned, this is hands down the most violent film that I've seen and it is just a nonstop thrill ride from start to finish. Don't watch Punisher: Warzone expecting brilliant acting and a top-notch story, you won't find it. However if you're looking for one killer action film that succeeds with delivery what you want in an action film, then this is one to check out. The film has its flaws, but the awesome action makes up for it, and for Punisher fans looking for the definitive Punisher film, then this may be that film. I certainly enjoyed this more than the previous two films, and Ray Stevenson is simply a more intense and brutal Punisher compared to Thomas Jane and Dolph Lundgren. Strap in for a wild ride that is lots of fun from beginning to end. My personal favorite of the three Punisher films. This one succeeds where the others missed the mark.
Punisher: War Zone Quotes
| | |
| --- | --- |
| Bill Russoti/Jigsaw: | I'll take care of this guy. |
| Loony Bin Jim: | Oh no, brother. Fatso's mine. |
| Bill Russoti/Jigsaw: | Of course. |
| Loony Bin Jim: | I'm gonna get my applesauce back! |
| | |
| --- | --- |
| Frank Castle/The Punisher: | Let me out. |
| Detective Martin Soap: | You know, Frank, giving you a tip is one thing, password to the crime database is another, but letting you go...? |
| Detective Martin Soap: | You know, Frank, giving you a tip is one thing, password to the crime database is another, but letting you go? |
| Frank Castle/The Punisher: | Soap! |