Puppet Master
(1989)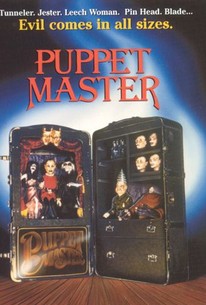 Movie Info
A puppet maker uses an ancient Egyptian potion to bring his toys to life but kills himself out of despair when they become demonic little murderers. Years later, a team of psychics discover the creatures and attempt to dispose of them in this tense horror film.
Critic Reviews for Puppet Master
All Critics (7) | Fresh (3) | Rotten (4) | DVD (1)
With some weird, awesome puppets, a nice finale, and an interesting theme hovering over it all, Puppetmaster's a unique piece of the late '80s.
While the movie has terrific atmosphere and set designs, it's the iconic posse of killer puppets that have cemented Puppet Master in horror history as a campy cult classic.
January 4, 2012 | Rating: 3/5
Audience Reviews for Puppet Master
½
Probably Charles Band's best known film and franchise and probably his most lucrative. I remember seeing these old horror flicks on the top shelves at my local videoshop when I was a kid hehe the covers always looked really evil and intriguing, quite scary. In reality this film is pretty dire to be honest, yes I know its a bit of a classic and cult horror but really...its pretty crappy. The first of Band's films and possibly the beginning of his killer doll obsession and I was surprised how bad it is. Most of his later puppet films are much better looking than this of course but they are also much more spooky than this too. The cast are unknowns (to me) with pretty ropy acting skills, the way these people fall over and pretend to escape the psycho dolls is quite amusing really, but I guess its hard to make it look really threatening. The location isn't particularly scary looking with zero atmosphere and there isn't too much blood n gore either really, what there is you don't see. The only two things going for the film are the cool looking puppets which have always looked good in all the killer doll films made by Band. There is some stop motion animation used throughout but to be fair it looks quite solid, I've seen worse. The other is the lovely kooky circus-like musical score which plays ominously in the background from time to time, a real funhouse of horror's type of tune, very effective. Other than that its pretty poor and not in the least bit scary or sinister. Plot is simply an excuse for a group of people to be killed in a big empty hotel one by one by the puppets, that's all you need to know. I'm sure back in the day it was more eerie and impressive looking than now but I'm still hard pressed to believe any adult would find this scary.
Phil Hubbs
Super Reviewer
½
The first Puppet Master film is a fairly decent horror film that glimpses of great ideas, but never is fully realized. This first entry in the Puppet Master franchise is by far the best. This is a strange horror film, the premise is quite intriguing and there's some good ideas explored with the concept. However things could have been done a lot better, but this is a straight to DVD film, so you can't expect really anything that great. Puppet Master is a fun film that delivers a decent plot, but it's a very bizarre film too. The film manages to an entertaining film, but Puppet Master has limitations in its script and the acting is standard B movie acting. There's nothing special about it. Puppet Master is the only one in the franchise that really is worth watching and is a fun little horror film to check out. This is the best Puppet Master film, and despite the fact that it's somewhat lackluster, it still is a fun film despite its limitations. The best way to enjoy Puppet Master is with an open mind, this is a harmless film meant thrill, and it most certainly does that. Although not great, this first film is still much better than the ten other abysmal sequels that would continue the series the subsequent years to come. Director David Schmoeller who directed the classic Tourist Trap directs this film with good enough flare to keep you interested. Although far from his best, this is still a worthy film to watch. If you want my opinion, only watch this film, and stay away from the sequels as they offer nothing good for the viewer. However definitely give this one a shot if you want an eccentric viewing experience. This film is a worthy Sci Fi tongue in cheek horror film.
½
Disappointingly slow-moving and talky comic horror about a Puppet Master who has given life to a bunch of insane looking puppets who turn murderous. The puppets themselves did look pretty cool and menacing but they weren't given enough screentime to create havoc, their time comes far too late on in the film - the first 50 minutes were tedious.
Puppet Master Quotes
There are no approved quotes yet for this movie.