Puppet Master III: Toulon's Revenge
(1991)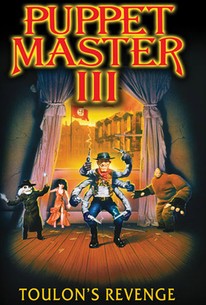 AUDIENCE SCORE
Critic Consensus: No consensus yet.
Puppet Master III: Toulon's Revenge Photos
Movie Info
This entry in the horror thriller series shows how the mad French puppeteer Toulon created his supernaturally animated demonic marionettes.
News & Interviews for Puppet Master III: Toulon's Revenge
Critic Reviews for Puppet Master III: Toulon's Revenge
Audience Reviews for Puppet Master III: Toulon's Revenge
Third film and this time the puppets are up against the Nazi's as we go back into the past in what appears to be a prequel. There is one big problem though and that's the fact Mr Band has screwed up the franchises continuity already by setting this film in 1941 when 'Toulon' died in 1939 according to the original film, oh dear. OK so we over look that little itchy problem and focus on the film. To be fair this film is much more enjoyable than the first two, we watch and learn how the puppets assist 'Toulon', how and why he creates his 'Leech Woman' puppet and we see what happens to his wife...ergo a prequel. Again there isn't much blood n gore on show for a horror film but the puppets are quite active in this one which is good plus we get introduced to 'Six Shooter' who is by far one of the better puppets. 'Six Shooter' kills one Nazi trooper with his quick draw six shot fire and it actually looks pretty cool, some well done squib effects there. Band also reuses some cast from his early films, as he always does, Richard Lynch of 'Trancers II' for this film. Like the other two films you don't expect decent effects or acting or horror really but the quirky stop motion dolls accompanied by the ever present haunting score all add to the charm. This film also benefits from some reasonable production by the looks of things, a step up the ladder for location and atmosphere.
Phil Hubbs
Super Reviewer
Third entry in the Puppet Master series is a terrible waste of time. The idea for the film is interesting, but the film feels too low budget because after all, this series was always a straight to DVD series. The film is poorly made, with a bad script, bad acting and bad directing. There isn't really anything redeeming about this film, except you feel that there is something that could've been done better due to its concept. However that's not to be. The only remotely good Puppet Master film is the first one, and I really don't know why they kept on making sequels to the first. Really by this third entry you can see the filmmakers were struggling to find an angle on what could work for a story, a story that could have been interesting, but it fails due to the lack of talent involved. The Puppet master series lacks anything truly interesting, and his third entry is very bad and is not worth watching if you've seen the first two. This is one sequel to avoid and not bother with. There is nothing really good here and the film is lazy filmmaking even by straight to DVD standards. The film is awful, and I can't recommend any horror fan watching this mess. The ideas for the film fall apart really fast, and there is absolutely nothing salvageable about this third tiresome entry. Skip it. Though very bad, the film did have some potential, but is clearly wasted here. Not a film worth watching. Your time would be better doing something else.
And here we come to what I consider the end of the first trilogy of films in the series. Fortunately, the trilogy goes out on a high note. Puppet Master 3: Toulon's Revenge is actually the best sequel, in my opinion. The story is much better and more complete than the those previously seen, even in the original film. For once we're not dealing with ghosts or paranormal activities. We're dealing wtih real people, most of whom are the real monsters: Nazis. The film plays on the sympathies of the puppets and Toulon more prevalently than before. It also contains the most prestigous cast of any of the films in the series. Guy Rolfe takes over beautifully as Toulon, but there's also Ian Abercrombie, Walter Gotell, Sarah Douglas, and the absolutely riveting Richard Lynch. This is actually my favorite film in the series, to be quiet honest. For fans it sort of goes against what came before it, particularly with the characterization of Toulon, but it's the most well-made film. I wonder if they can keep this kind of quality up in the following sequels? I guess we'll soon see.
Tim Salmons
Super Reviewer
Puppet Master III: Toulon's Revenge Quotes
| | |
| --- | --- |
| Andre Toulon: | No mercy, my friends! No mercy!! |
| Andre Toulon: | No mercy, my friends! No mercy! |