Puppet Master: Axis of Evil
(2010)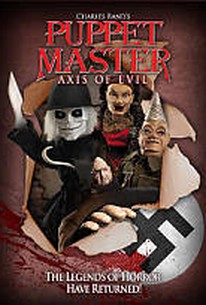 AUDIENCE SCORE
Critic Consensus: No consensus yet.
Puppet Master: Axis of Evil Photos
Movie Info
The Puppet Master saga continues in this tale set during the most intense days World War II, and following a young man who uses Mr. Toulan's puppets to strike at the heart of the Nazi regime. Danny Coogan (Levi FIehler) longs to fight for his country, but thanks to Polio he's stuck working at the Bodega Bay Inn as his older brother Don (Taylor M. Graham) fights for the Allies overseas. During a visit with hotel guest Andre Toulan (William Hickey), Danny notices that the elderly puppeteer's creations seem to have a mind of their own. Intrigued, he later returns to Andre's room for another visit, and is nearly trampled by a pair of SS henchmen Max (Tom Sandoval) and Klaus (Aaron Riber) making a hasty escape. Andre is dead, and now the puppets have selected Danny as their new master. Later, Danny begins to suspect that his girlfriend Beth (Jenna Gallaher)'s co-worker may have been one of the assassins responsible for Andre's death, and uncovers a plot between the Nazis and Japanese agent Ozu (Ada Chao) to destroy the manufacturing plant where Beth is employed. Perhaps with a little help from the puppets, Andre may be able to help prevent Axis forces from gaining the upper hand at a crucial turning point in the war.
Critic Reviews for Puppet Master: Axis of Evil
Audience Reviews for Puppet Master: Axis of Evil
½
So the canon franchise continues still with this new entry into a now completely overdone idea. Again this is yet another prequel and digs around with what happened right after 'Toulon' committed suicide. We still have the continuity problem as this film is set in 1939 yet previous films were set in the early 1940's and 'Toulon' was alive. So Band is still ignoring this it seems. So this film has a young boy getting a hold of the puppets right after 'Toulon' killed himself. From there on the plot revolves around the war effort and how this young boy must stop some Nazi's and a Japanese woman from destroying a US bomb manufacturing plant, of course the puppets assist. This is easily one of the dullest films in the series and has hardly any puppet action until the very final showdown and then its pretty poor really. The film looks quite good with decent costumes and some reasonable sets but its just boring, not scary and not very interesting. I really can't understand how Band can continue making these films as he is just rehashing the same stuff over and over, how many prequels can you do?!. I'm not really sure what these films are now, certainly not horror. Nothing new here accept one ninja puppet.
Phil Hubbs
Super Reviewer
A ninth entry in the series just for the sake of pleasing fans of this trash and keep DVD sales up, Puppetmaster:Axis of Evil is yet another poorly conceived mess that really makes you wonder when are they going to end this abysmal series? This is yet another pointless exercise in crappy cinema making. The film has an awful cast, awful special effects, awful directing, and nothing, absolutely interesting to the viewer. I love a good cheesy horror flick, but with this series, it just gets worst with every entry and there's absolutely nothing to redeem, this wreck of a so called film. This film is plainly awful, a film that never should have been made in the first place. If you're looking for a horrible horror flick, hey this is the perfect film for you to watch. However, if you expect something good with this film, you'll be sadly disappointed. This film was a waste of time, and a poorly constructed film where the filmmakers simply didn't care what they were doing. The film is one to avoid. Watch a better film than this. However if you're a fan of the series, you'll probably enjoy this film because it has everything from the previous entries, and in my case I don't think it's a good thing, but for fans that may be something to look forward too. The film should be avoided if you are new to the franchise, and aren't familiar with these films. I view this as yet another awful film, one that fails to deliver good entertainment. I wonder when they'll stop making these films.
A very disappointing start to my 2011 Shocktoberfest. Story goes like this: It's World War II time in America. Danny has a bum leg so is denied from joining the army. His brother, mother and girlfriend all assure him that there is plenty he can do for the war effort from home, but he really has a boner for killing "krauts" and "japs", and is bummed out that he will not be able to take part in the fun. He comes upon a group of puppets at some point who have are alive and will kill whoever their master orders them too. Meanwhile two "krauts" and three "japs" (one of which a geisha for no apparent reason) are planning on A) finding the puppets and then B) blowing up the world. Dannys on to them though and sic's his puppets on their nazi and nip asses. I have a lot of problems with this movie. First off there are much better puppet/dolls killing people movies. Childs Play and Black Devil Doll for example. Those films also had a terrific sense of humour which made up for their admittedly ridculous concept. This film has none of that. Second of all theres nothing scary or even creepy about this snoozefest. It feels more like an overlong episode of Are You Afraid of the Dark. The German characters don't even seem like their trying to have a German accent, and the inclusion of a Geisha is both unnecassary, and never explained. Why the fuck would the Japanese send a geisha for a job as big as blowing up the world. This film is also offensive on a moral level. Particularily the frequent racial slurs of the Germans and Japanese. I am aware that this was the language people used in those days so normally I would let this slide, but some of the dialouge is so blatantly fucked up and nonsensical that I had no choice but to be offended by it. Particularily the scene where Danny is talking shit to the geisha about how Kamikaze pilots are cowards with no honour for flying into their enemies with planes, killing themselves in the process. a pretty bold statement to throw in there considering Americas contribution to the war was being the only country so morally bankrupt in history to actually drop an atom bomb on a populated area not once but twice, bringing the cowardly Japs to their knees. Seeing as how this is basically a childrens movie I felt this was inappropriate to throw in there. Pissed me off anyways. There is a little bit of blood in this movie but nothing to write home about. All this aside the film is just boring, stupid, cheesy and all around poorly done. shittiest ending I've ever seen too, but at that point I was just glad this piece of shit was over. Apparently theres a whole series of these films. While I'm guessing this wasn't the right place to start, this definently has not inspired me to check out the earlier efforts from Charles Band. If I'm wrong on this and the earlier films are worth seeing let me know, but at this point I plan on avoiding the series like the plauge.
Ed Fucking Harris
Super Reviewer
Puppet Master: Axis of Evil Quotes
There are no approved quotes yet for this movie.