Puppet Master II
(1990)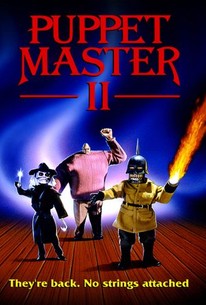 Movie Info
The supernaturally animated demonic puppet creations of a mad puppeteer spring back to life in hopes of reanimating their master with an ancient Egyptian formula that utilizes brain serum in this gory horror thriller.
News & Interviews for Puppet Master II
Critic Reviews for Puppet Master II
All Critics (6) | Fresh (2) | Rotten (4)
Like all great Gothic horror, whether older classics or the contemporary stories of today, Puppet Master II sees past and present collide with fatal results.
A bad time for the series. Go from the original straight to part 3.
June 10, 2004 | Rating: 2/5
Audience Reviews for Puppet Master II
½
Its hard to think how this franchise took off really as the first two films are so poor, the imagination and originality is there sure but they really aren't given the treatment they need. This sequel is pretty much exactly the same as the first film, another group of young folk term up at the creepy old hotel and get killed off one by one by the killer dolls. The only difference is the dolls manage to resurrect 'Toulon' to add a touch of spice...if you can call it that. That's pretty much the plot right there, 'Toulon' doesn't really don much accept walk around looking like Claude Rains from 'The Invisible Man'. That's the only intriguing part in the film really, you know the guy looks nasty underneath his bandages and your curious to see, but that's it. There are plot holes throughout which hinders the story in places, the very ending for instance doesn't really make much sense unless you read up on it. Characters are unimportant and you don't care about them...hell lets face it its all about the dolls and how they kill people. The dolls/puppets do look as good as ever and there is some nice makeup on 'Toulon' once he is exposed, apart from that its pretty poor stuff.
Phil Hubbs
Super Reviewer
Follow up to the first Puppet Master is a big disappointment. After the amusing first entry, Puppet Master is a step down and is definitely not a fun experience. The cast are terrible, and the acting is about the same level as Troll 2. The first Puppet Master was a decent, watchable horror film. But Puppet Master 2 is simply a very bad film with bad acting, bad dialogue and bad directing. The film feels sloppy and doesn't try to break new ground. This is a poor attempt at a sequel, but it's not surprising considering that the whole series is a straight to DVD crap fest (except for the first film) There's nothing entertaining about this film, and you can see it was so cheaply made that it could have been a Sci Fi channel movie. This is a poorly constructed film with poor execution. If you liked the first film, don't bother with this one, it has nothing good to offer and is a waste of time. The film is terrible and not worth your time. I found myself fast forwarding a few times with this because it wasn't good and the acting was painful to watch and the so called story was pretty bad as well. This is a film that feels bad all around, avoid this because this series is just bad and the sequels are tiresome, boring and a mess. This second film fails where the first one succeeded, and that's being a good so bat's good horror flick. I disliked every sequel that came after the original, and I feel that because of that, this one of the worst horror series ever made.
One of the things that I've slowly realized over the years about this series is that it's not really about anything more than the puppets themselves, and less about the horror. Of course the main characters take a backseat, but the horror does, as well. Puppet Master 2 isn't the strongest entry in the series, but it does introduce us to a bit of the backstory about where the puppets and their creator Toulon originate. William Hickey portrayed Toulon in the opening moments of the first film, but Steve Welles takes over with a more sinister and creepier take on the character. The series would definitely expand on things and improve a bit as it went along, but I still find the original film the most enjoyable. The first sequel isn't bad, but it just fails to recapture the magic or make things any better. It's good, but not AS good.
Tim Salmons
Super Reviewer
Puppet Master II Quotes
There are no approved quotes yet for this movie.