Puppet Master: The Legacy
(2003)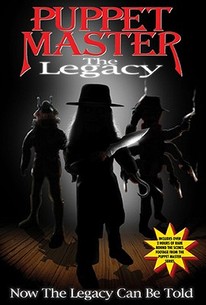 AUDIENCE SCORE
Critic Consensus: No consensus yet.
Puppet Master: The Legacy Photos
Movie Info
As a young boy, Eric Weiss was saved from a grim fate at the hands of Hitler's SS by a kindly toymaker named Andre Toulon. Fascinated with the toymaker's seemingly supernatural ability to breathe life into his carefully crafted figurines, Eric spends his entire life attempting to unlock the secret behind the toymaker's magic. Just when it seems that Eric may have perfected the ability to create artificial life, a rogue agent named Maclain breaks into his lab and tortures the new puppet master in hopes of extracting the valuable secret. Time itself seems to stand still as the present meets the past, and the bloody legacy of the murderous puppets is revealed in an act so shocking that it may destroy the very souls of all involved.
Critic Reviews for Puppet Master: The Legacy
Audience Reviews for Puppet Master: The Legacy
Don't hold your breath here folks, this is what Mr Band does in his spare time, rip people off from time to time. This is basically a compilation of clips from all the previous Puppet Master films put together in a very loose plot and palmed off as a feature film. The plot is simply about a mercenary searching the creepy old hotel for the secret of 'Toulon'. She finds a man in the basement (convenient) who seems to be working on the same search. This man turns out to be the little boy from 'Puppet Master III' all grown up and taking care of 'Toulon's' work. This is all played out with lots of segments from the previous films in flashbacks. It all ends with the puppets U-turning and becoming killers again I think, I'm not sure really as the ending is so bizarre and abrupt so I'm assuming. What is really weak here is the fact they try to tie all the loose ends together with many characters of the previous films. They seem to try and fix the continuity error with 'Toulon's' death (I think) although I don't think they really can and we find out this merc has killed many previous characters for info on the secret. So that solves any loose ends now huh. Pretty much a complete waste of your time and not a proper film. I dunno why Band does this as its the worst example of milking an idea and really gives him a bad name in my opinion (he has done this before a few times).
Phil Hubbs
Super Reviewer
Yet another poorly conceived mess that never should have been. This sequel raises important questions, how can they keep making these awful sequels that aren't good? Really. There should be a law against making bad films. Unfortunately there isn't. What we have here is the seventh entry in this series of cheesy, tongue in cheek Sci Fi horror flicks. Puppetmaster: The Legacy has everything that made the sequels bad. But this time around the film just plays out with flashback sequences and recounts the terrifying exploits of the puppets. To me, that's all it was. The film was horribly put together film that was unnecessary. This film was awful. The filmmakers clearly had no inspiration whatsoever when making this one, and it should be a big surprise either because they never did in trying to come up with effective ideas for sequels. The Legacy is a compilation of flashbacks set to a poorly written story that just doesn't cut it. The best thing about the film is its short run time. If you're looking for a good flick, you won't find it here, the film is bad, and doesn't have anything good going for it. I shouldn't say bad, I should say awful, because this is a summary of every previous sequel that came before it. Avoid this flick like with every other sequel. This film was not needed and by watching it, you clearly understand why. You're definitely not missing much if you're an avid follower of the series, and haven't seen this film. Watching paint dry was better than this. Just another pointless film.
Pupper Master: The Legacy is timeless creepy Movie with some LOLs scene.
Puppet Master: The Legacy Quotes
There are no approved quotes yet for this movie.