The Puppet Masters
(1994)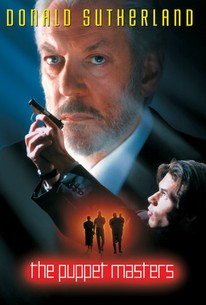 The Puppet Masters Photos
Movie Info
This film is based on Robert A. Heinlein's 1951 novel The Puppet Masters. Parasitic space aliens invade the Midwest, taking over the bodies of humans and manipulating these unfortunates to do their bidding. U.S. security agent Donald Sutherland and his team of troubleshooters must foil the extraterrestrial scheme.
Critic Reviews for The Puppet Masters
Audience Reviews for The Puppet Masters
A captivating paraniod sci-fi thriller well directed by Stuart Orme, that features a outstanding lead star performance by Donald Sutherland, as Andrew Nivens the shrewd, sardonic head of a secret top-level U.S. Security Agency who leads his team consisting of agent Sam Nivens his disaffected son, Dr. Mary Sefton a specialist on alien biology from NASA, both roles are well played by Eric Thai & Julie Warner and agent Jarvis, nicely played by comedian and character actor Richard Beizer into an investigation of a alleged UFO landing in a small midwestern town, they quickly discover that small parasite-like extraterrestrials creatures have indeed landed and are taking control of the town residents and manipulating their bodies and minds like they were puppets, now Sutherland and his team face an escalating crisis as the creatures multiply and keep spreading to the point the the U.S. Army has to be brought in to stop the seemingly unstoppable alien menace. Solid supporting performances by Keith David, Will, Patton, Yaphet Kotto, Sam Anderson, Gerry Bamman and Marshall Bell, but its Sutherland superlative turn in itself that makes this motion picture worth watching. The film has several superbly staged action sequences, and an intelligent screenplay by Ted Elliott, Teau Russio, and David S. Goyer, which is based on Robert Heiniein's original story. Excellent visual effects with remarkable animatronic slug-like alien parasites creatures by Gred Cannorm, A solid piece of science fiction that has some genuinely creepy moments. Highly Recommended.
Danny Rovira
Super Reviewer
½
Conspiracy sci-fi in which the human race is being infiltrated by aliens who can control the bodies of their human victims. On their trail are two FBI agents, one male, one female. One is a believer, the other a sceptic. Any of this sound familiar...? Yes, it's a total rip off of the X-Files, but it's adequately done, and Donald Sutherland is always worth watching.
Standard-issue alien-invasion thriller.
William Goss
Super Reviewer
The Puppet Masters Quotes
There are no approved quotes yet for this movie.