Purple Butterfly (Zi hudie)
(2004)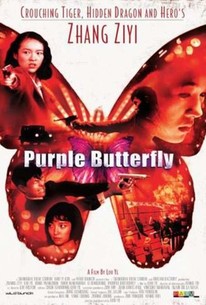 Movie Info
Directed by Lou Ye, Zi Hudie revolves around the underground faction of anti-Nipponese fighters in 1930s Shanghai, just prior to the onset of the Sino-Japanese war. It's only the beginning when Cynthia (Zhang Ziyi), a young Chinese woman, learns the news of her lover Itami's (Toru Nakamura) rapidly approaching return to the military. In a second and even more devastating blow, Cynthia's brother, a contributor to an anti-Japanese newspaper, is killed by a Japanese activist. Three years later, switchboard operator Tang Yiling (Li Bingbing) and Situ (Liu Ye), her fiancé, are introduced to Cynthia after inadvertently heading into a protest held by a resistance group code-named Purple Butterfly, of which Cynthia (who has since changed her name to Ding Hui) has become a part. Ultimately, a botched assassination attempt leaves Situ with a mysterious briefcase; now a suspect himself, Situ is arrested by none other than Itami, who, after reuniting with his old flame, has no idea of her role in a complicit plan to have his boss (Kin Ei) assassinated.
Critic Reviews for Purple Butterfly (Zi hudie)
Audience Reviews for Purple Butterfly (Zi hudie)
Purple Butterfly is quite an interesting watch. It isn't interesting in the way where the story just knocks your socks off or where the film just spans many genres. This is a straight up Chinese gangster drama with a different way of telling the story.
This film is almost like a silent picture. The dialogue is down to a minimum and I mean bare minimum. This will turn away a lot of people, but the silent treatment benefits this film to some degree. You see, this would have turned out like any old Chinese crime drama if the dialogue was written in the usual way. Instead, you have to rely on the camerawork to tell the story.
Of course, having the camerawork carry the film does have its downsides. The story, in the second half, is a little complex, but not impossible to figure out. The first 30 minutes is real easy to follow, since there isn't much in the way of story. It is all character buildup and it is a bit much if you ask me. It really does feel like the beginning of the story happens at around the 40 minute mark.
The ending is a bit drawn out and the last 5-10 minutes seem unnecessary. It is because of this that the film reaches 2 hours. It is long, especially for a low dialogue picture.
Zhang Ziyi does lead this film, although there are a few other characters with just as much airtime. All the actors feel bland and that is more the style of the movie rather than poor acting.
This film will not cater to everyone and it does take a chance at doing something out of the ordinary. It's a good watch if you can stand the slow burn of 120 minutes.
½
Well this movie certaily was confusing. The first line is spoken almost 7 minutes into the movie. I thought that was nice but if this movie wasn't so confusing I didn't even know what I was watching. It probably must have been cause my famliy members were around and they were talking so I rarely payed attention to this movie. Even if I had payed my full attention to the movie I probably wouldn't have understood any of it. It's still a decent movie with some nice shooting. I like how the guns shooting sounded cause the guns sounded like they would if it were the 1930's. It's a small little detail, but I liked it. Other than the gun sounds, nothing much was that interesting out of this movie. It's a shame it had the potential to be great. It certainly isn't the worst Asian movie I've seen, you should see Tokyo Psycho (absolutely terrible). Just watch this movie if you like nice visuals and nice sounds. Other than that you won't miss anything if you don't watch this movie.
Jesse Ortega
Super Reviewer
[font=Century Gothic][color=indigo][font=Century Gothic]Absolutely incoherent film about Chinese resistance to the Japanese invasion of Manchuria and Shanghai in 1927 and 1931. Now, that's the part that I understood. Anything involving specific characters, or more precisely who was shooting at whom while at the same time carrying on love affairs with people on the other side completely escaped me. [/font][/color][/font]
Purple Butterfly (Zi hudie) Quotes
There are no approved quotes yet for this movie.