Pusher
(1999)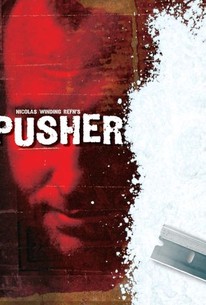 Movie Info
Frank is a small-time pusher who sells heroin together with his friend Tony. The heroin is supplied by an ex-Yugoslav dealer, Milo, and safely kept at his hooker girlfriend Vic's apartment. When a heroin deal goes wrong and Frank is busted by the police, he is released because of a lack of evidence, but only to find that he owes a very big debt to Milo who has given him two days to collect the money that will save him from a 9mm bullet.
Critic Reviews for Pusher
Audience Reviews for Pusher
At 26 years of age Nicolas Winding Refn made his feature length debut with Pusher, a flawless piece of filmmaker that ranks among his very best films. I would put this film ahead of Drive and Bronson, and here is the work of a director who has a take no prisoners approach to making films and crafts one of the most stunning crime dramas that I have seen in quite some time. He would later follow up this film with two more sequels, all terrific, and with a great story, exceptional acting, and pulse pounding, raw intensity, Pusher is a superb film that is very impressive considering the fact that that Refn made this in his twenties. Pusher is highly engaging from start to finish and is a memorable crime drama that will stay with you long after you've seen it. Refn has an eye for what makes a good crime film, and with Pusher he would prove himself as a talented filmmakers with many other films. Pusher is a standout debut, and it's one of the most impressive film debuts I've seen since Quentin Tarantino's Reservoir Dogs. Brilliantly effective, raw, gritty filmmaking, Pusher is an accomplished picture that tells an engrossing story. Refn doesn't overdo the subject, which in turn makes the film much better, simple ideas make for great cinema, and with Pusher you get just that. This is a brilliant picture of which that shows that Nicolas Winding Refn was able to make a standout picture using so little. The cast deliver some solid performances, and it elevates the story even more. Combine that with standout direction from Winding Refn, and you have a near perfect picture that is much more elaborate in its ideas and entertainment value than big budget Hollywood movies. This is raw cinema, a piece of film so riveting that you won't be able to tear yourself away right up to the final shot.
A raw, intense, stylish and hard-edged thriller. It boils with tension and energy from its script, actors and the incomparable talent of its director. Director, Nicolas Winding Refn crafts a bold, compelling, twisty and slick crime story. With no experience before, Pusher is an electrifying debut of very talented and promising talent. Kim Bodnia is terrific, he plays an unlikeable character who deserves whats coming to him but you kinda wish the tables would turn another way down the course of the film. A rare fine in a independent film and a start to an interesting trilogy. A well-done piece of work shot with no money but makes it feel more real and disturbing.
½
I liked it but seemed so simple and not as fast paced as I expected. He lost drugs and is screwed...thats about it? I mean theres nothing deep about a drug dealer and the violence wasn't the most brutal thing in the film. Either way, a good entry for Nicholas Winding Refn because years later in 2011 Drive came out!
Pusher Quotes
There are no approved quotes yet for this movie.