Pushing Tin
(1999)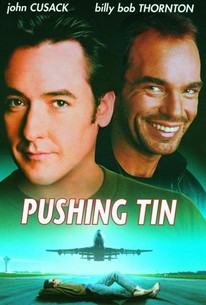 Movie Info
The intense world of air-traffic controllers is played for both drama and laughs in Pushing Tin. John Cusack plays Nick Falzone, the top air traffic controller at New York's Terminal Radar Approach Control (TRACON) Center, where he negotiates air traffic and landing patterns for the Kennedy, LaGuardia and Newark airports, America's most congested airspace. It's a tough, stressful job that's highly demanding and Nick is very good at it -- and he takes no small amount of pride in that. So Nick is less than enthusiastic when a new controller comes on board; Russell Bell (Billy Bob Thornton) transferred into TRACON from the Southwest, in search of a greater challenge. In direct contrast to the wired edginess of Nick's personality, Russell is a model of Zen cool who is so focused on planes it's said he once stood in the wake of a 747 just to know what it felt like. Soon work becomes a constant competition between Russell and Nick, and their competitiveness doesn't stop when work is over. However, the rivalry begins to take a different turn when Nick takes notice of Russell's beautiful but hard-drinking wife Mary (Angelina Jolie), while Nick's wife Connie (Cate Blanchett) finds herself more than a bit intrigued by Russell. Pushing Tin was written by Glen Charles and Les Charles, who previously received notice for their television work on such series as M*A*S*H, Cheers and Taxi, and directed by British filmmaker Mike Newell, who's last project, Donnie Brasco, also took him into a little seen side of New York City.
News & Interviews for Pushing Tin
Critic Reviews for Pushing Tin
Audience Reviews for Pushing Tin
½
Pushing Tin is a very entertaining film that blends comedy and drama. I thought that the film was very well done, and I much preferred it the second time around. This is a well acted film with a great cast. John Cusack and Billy Bob Thornton are great here, and they make the film work. This is an entertaining film, and the characters are very intriguing and keep you involved. The plot of the film is very good, layered with a well written script and it has good directing provided by Mike Newell. This is a well put together film that if you want a different type of comedy, is definitely worth checking out. The film has its flaws, but Cusack and Thornton are able to constantly make entertaining and worthwhile that you end up not caring so much about its imperfections. Pushing Tin is a refreshing comedy, one that has some great characters, each with an interesting back story. Thornton however steals the show and he delivers the energy that makes this one worth watching. There's also a serious tone to the film, and it adds more atmosphere. If you want a different type of comedy film, then give this film a shot. The performances are great, the jokes are well written, and the directing is very well done. However to appreciate this film a bit more, you may need to watch it a second time as it's offbeat humor may not appeal straight away. The film grows on you after a while, and in the end, you realize how good this film really is. A definite must see Pushing Tin is a truly unique and eccentric comedy drama film.
½
The films is pretty good, then it falls apart and doesn't quite recover. The performances are the best part, and I liked that this film was about a subject that hasn't been shown on screen before. Too bad the screenplay craps out, otherwise this would be a far better film. I'll be nice and give it a solid B-.
Chris Weber
Super Reviewer
A wonderful film about becoming the second best. Cusack is his perfect self, he represents the insecure everyman who is given a run for his money by the "interesting" Billy Bob Thornton. Thornton's character of Russel is brilliant, he's slightly odd, quite slimy and maybe a tad evil without ever being these things. It's how Cusack and others play off him that really create such a sinister being. Jolie is perfect, she's never looked better and her role is fantastic although she has a lack of screen time. Blanchett is also reduced to playing a typical wife, though her innocence and chemistry with Cusack do create someone sympathetic. The film is often laugh out loud, but overall it's not the most memorable of the bunch.
Luke Baldock
Super Reviewer
Pushing Tin Quotes
There are no approved quotes yet for this movie.