Putney Swope
(1969)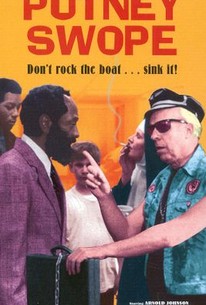 Movie Info
After several years working along the margins of the underground film scene in New York, director Robert Downey broke through to wider recognition with the arthouse hit Putney Swope, a wildly irreverent satire of race and advertising in America. Putney Swope (Arnold Johnson) is the token African-American executive at an otherwise all-white advertising agency when the chairman of the board unexpectedly drops dead. Through a fluke in the chain of command, Swope becomes the new head of the firm, and decides its time to do things his way. He fires nearly all the staff (except for his one token white employee), renames the agency Truth and Soul, Inc., and announces they'll no longer accept accounts advertising tobacco, alcohol, or war toys. The ads they do produce -- for acne remedies and breakfast cereal, among other things -- are wildly successful, and the iconoclastic ad agency (which only accepts payment in cash) is targeted by government operatives as a threat to the national security. Antonio Fargas and Allen Garfield lead the supporting cast; Mel Brooks makes a cameo appearance. ~ Mark Deming, Rovi
Critic Reviews for Putney Swope
Audience Reviews for Putney Swope
When the chairman of an ad agency dies, the board all secretly vote Putney Swope, the token black executive, as the company's new leader, assuming that no one else would vote for him. He immediately fires the cracker staff, hires brothers and changes the company name to "Truth and Soul Advertising." Wicked, politically incorrect and completely absurdist satire packed with nonsense and wordplay; the president is a pot-smoking dwarf and director Robert Downey Sr. dubbed all Putney's lines, so the black hero sounds like a Brooklyn Jew.
This movie is cool, it made its audience think about the racism in the media at the time and showed in a radically comedic way how things could change. I think this movie is awesome, but it has some weak spots, it could be a bit better. Overall, I liked it, it's good, and I highly recommend checking it out.
robert downey's dad produced this withering satire in 1969 giving madison avenue and 60's race relations a thorough skewering. it's a bit scattered and certainly dated with no-budget production values and the dubbing of swope's lines throughout bothered me. i wish i could give it more than 3 stars as i certainly admire the spirit behind it. of interest to fans of underground films and counterculture
Stella Dallas
Super Reviewer
Putney Swope Quotes
There are no approved quotes yet for this movie.