Python II
(2002)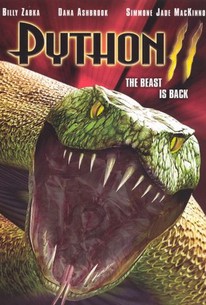 AUDIENCE SCORE
Critic Consensus: No consensus yet.
Movie Info
In this made-for-cable sequel to Pythons, the U.S. Army's Colonel Jefferson (Marcus Aurelius) has successfully neutralized the horrific 12-ton, 57-foot python that had been developed as a jungle weapon by a top-secret intelligence organization. Unfortunately, still another synthetic "Beta Snake" has escaped from Sub-Basement 9 of the Russian-American Joint Military Operations -- and this one is 85 feet long, and even meaner and more invulnerable than the original python prototype. When the slimy predator slithers into the Ural Mountains, it is up to disgraced ex-ballplayer Dwight Stoddard (Dana Ashbrook) and his Russian wife Nadia (Simone Jade McKinnon) to capture and kill the monster. Alas, mysterious American Greg Larson (Billy Zabka), who claims to be a "biotechnician," proves to be the real snake in the grass in this melodramatic Bulgarian-American coproduction. Pythons II was first telecast in the U.S. by the Sci-Fi Channel on August 17, 2002.
Critic Reviews for Python II
All Critics (3) | Fresh (0) | Rotten (3) | DVD (5)
Whether you take the old-school method of scary horror or the modern self-referential approach, it fails miserably on both accounts.
October 25, 2003 | Rating: 24/100
criticizing a film called "Python," much less "Python 2," is one of those things that thirty-year-olds wearing felt and living in their mothers' basements do
...I expected every minute for commercials to pop up. They would have relieved the monotony.
January 9, 2003 | Rating: 2/10
Audience Reviews for Python II
Sequel to Python is really an awful mess of a film. Much like the first one, this film tries to rip-off every other killer creature film, and tries to create something cool. The film itself is bad where everything that goes bad does go bad. The film's story is very unimpressive and with the added bonus that it was made by the Sci Fi Channel, you can't expect anything good about this made for TV movie. The first film was mediocre, but kind of fun, but this film is plainly awful. I mean everything green lit and produced by the Sci Fi Channel will always end up with mediocre to bad to awful results. This is the case of Python II, the perfect sequel that should not have been made. Why even make a sequel to a film that wasn't that great in the first place? The cast here do a terrible job, and are pretty bad in their parts. What do you expect from such a bad script? Above all, the filmmakers will get actors who can't act whatsoever to save a few bucks, and they'll create horrific abomination. I find that films like this might've been good if it would have the backing of a major studio and a much better cast. But the film ends up being a boring film to watch, one that really is a waste of time. This is one of the worst nature gone awry films that I have seen. I adore horror films, and seeing the first Python was a mediocre, yet entertaining viewing experience; this film is simply an awful waste of time that makes you wonder why it was made.
Python II Quotes
There are no approved quotes yet for this movie.