Q
(1982)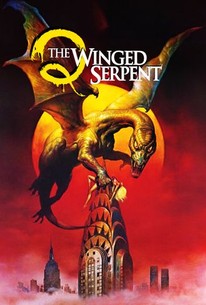 TOMATOMETER
AUDIENCE SCORE
Critic Consensus: Q's campy charms may be lost on audiences who want their monsters frightening, but a game cast and lovingly retrograde visual effects give this kaiju romp some majesty.
Movie Info
"Q" stands for Quetzalcoatl, the legendary Aztec flying serpent. The pesky, four-clawed aerial lizard has been uprooted from its Mexican home for a New York Museum exhibits; "Q" escapes, nestling in the spires of the Chrysler Building. It swoops down without warning to rip up and decapitate innocent bystanders--and lays eggs all over the city, just ripe for hatching into dead Q-lets. The only person who knows where to find "Q" is a scuzzy ex-convict, brilliantly portrayed by Michael Moriarity, who will help the authorities only if they meet his price. It is at this point that the audience realizes with some astonishment that Moriarity is the only hero this film is ever going to have. Directed by Larry Cohen, Q seems like a high-budget variation of an old American-International monster cheapie--no surprise here, in that the film's producer was American-International cofounder Samuel Z. Arkoff. Q's original title was The Winged Serpent; in some markets, the film carried both titles, merged into one.
Audience Reviews for Q
½
Ray Harryhausen would be flattered with the stop-motion animation that adorns Quetzalcoatl, a prehistoric reptile who decapitates window-washers with a single munch. In the midst of it all is Jimmy Quinn (Michael Moriarty), a scurrilous low-life wheelman for criminals. It's as if Larry Cohen gestated on interjecting Ratso Rizzo from 'Midnight Cowboy' into a cartilage-laden creature-feature and against all odds, the raw, seedy B-plot of Jimmy Quinn is a stupendous switchback on archetypal horror-movie protagonists insofar as Quinn is a profiteering scoundrel who is flailing with reforming his felonious tendencies ("Maybe I can't make it outside the slammer."). Cohen is a Roger Corman-esque shlockmeister at heart and the titillating sight of a nude sunbather is juxtaposed with an ineptly shot scene of the droplets of the women's blood descending on pedestrians. Mostly due to budget, Cohen refrains from showing too much of the titular character and it extracts palpable suspense. Truthfully, 'Q - The Winged Serpent' is a wistfully scalene endeavor as it jostles back and forth between Moriarty's filching scheme and the occult angle with human sacrifices to appease the Aztec god Q. Nevertheless, the strain of self-effacing humor (Quinn states he never wants to "see eggs again" after witnessing Q's hatchling in his Chrysler Building lair) assists in digestion of the more disparate elements and it emerges as another unexpectedly witty character study with New York verisimilitude masquerading as a monster movie.
Cory Taylor
Super Reviewer
About an hour in, Morarty goes off the rails and Cohen gives up on plotting and good dialogue. But until then, it's one of the most unique genre movies ever, taking a totally different angle of storytelling, in the plot, in the kind of dialogue that carries us from scene to scene, in the shots of parts of New York City that create the whole, in the super high and low angles and aerial shots that are all different than we've seen before and all perfect for pulling the characterizations and the monster threat together. The other half of what makes Q unique is the adventurous, voracious performance of Michael Moriarty. If Ratzo Rizzo was over-thought-out acting which Hoffman's second thoughts would have turned down a notch, here we get urban lowlife Jimmy Quinn and the opposite mistake. It's a method-like performance that is totally feeling driven, and might reach too much into Morarity's own reserves as an eccentric gone crazy. For a while, Quinn ( -- starts with "Q" -- ) is a amazing creation, and since he's more ordinary guy than crook, he has our empathy, and we like when he becomes a bit of a kook -- it's the common man's way of being Danny Kaye. But Quinn gets more selfish and annoying and resentful of how life has treated him, and empathy distills into pity, which is half chore. I started empathizing with the monster, who was too majestic to get shot down like Edward G. Robinson and had the whole city against him, even Jimmy Quinn.
Adam Mahler
Super Reviewer
Amusingly ridiculous monster b-movie in which a giant dragon goes round lopping off heads in New York City, and yet the NYPD finds it inexplicably difficult to find. The effects are ropey and the whole thing is just daft, but it's tongue-in-cheek enough to be able to carry it off. Just...
Q Quotes
There are no approved quotes yet for this movie.