Q & A
(1990)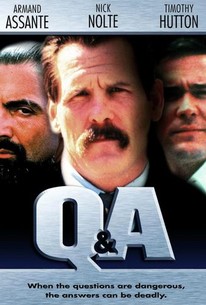 Movie Info
In this suspenseful aciton thriller a bad-to-the-bone renegade cop kills a drug dealer and tries to cover up his wrong-doing by making it look as if he was only protecting himself. The trouble really begins when the assistant D.A. assigned the case disobeys orders to clear the cop and begins snooping around.
News & Interviews for Q & A
Audience Reviews for Q & A
Q&A is a fairly typical Lumet film in the tradition of Prince of the City, Night in Manhattan, and well, everything else since Serpico (with the notable exception of the brilliant Before the Devil Knows You're Dead). In a lot of ways it seems that Lumet got stuck on this corruption in the force thing and devoted the rest of his career to pounding that theme to death. I'm not denying the importance of his subject, but I've found it very easy to see where his films are going. What's odd is that because I'm such a fan with a broad knowledge of his work, I've found watching his movies for the first time less enjoyable. One good thing about watching these older films (1990 is not that long ago) is I'm reminded of just how good some of these actors were in their prime. Hutton and especially Nolte deliver excellent performances. Last, I did have trouble with the ending. I don't think the final note of the film was developed as the film's principal conflict. Hopefully that was vague enough to avoid giving anything away.
Jim Hunter
Super Reviewer
A powerful gritty well-acted crime drama, brilliantly directed by Sidney Lumet. About a wet-behind-the ears Assistant D.A. superbly played by Timothy Hutton who is assigned by his boss a smoothly villainous Patrick O'Neal, too investigate a killing of Puerto Rican drug dealer, which involves a veteran detective who is corrupt and psychotic, he is played by Nick Nolte in a powerhouse performance. Nolte steals the film hands down, he has never been so brutal and imposing, his foul-mouth maniacal cop is an unstoppable force of evil. O'Neal is a man with unbridled political ambitions and wants Hutton to do a routine by numbers investigation, to get Nolte who is his personal enforcer off the hook, writing up a Q & A with Notle and other principal players, they must fine a fall guy for Nolte. The film is rich with outstanding characterizations by a terrific cast that includes Armand Assante, Lee Richardson, Charles Dutton, Luis Guzman, and Paul Calderon. This is a hard-hitting crime drama that realistically depicts the racism and corruption in the New York City justice system of the early 1990s. Highly Recommended.
Danny Rovira
Super Reviewer
½
Nick Nolte plays a greasy smell bad racist cop, who tries to intimidate Timothy Hutton. Justice is served to the pig.
Lafe Fredbjornson
Super Reviewer
Q & A Quotes
There are no approved quotes yet for this movie.