Quality Street
(1937)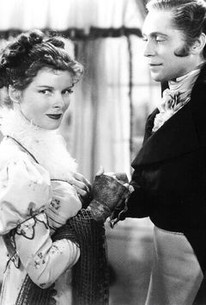 Movie Info
Previously filmed with Marion Davies in 1927, the lightweight James M. Barrie play Quality Street proved an ideal vehicle for Katharine Hepburn ten years later. The setting of the Barrie original was switched from 1805 Scotland to 1815 Regency England, to avoid a preponderance of brogues and to take advantage of the latter era's more attractive costumes. (Candid home movies taken on the set indicate that this sumptuous production might have been even more resplendent in Technicolor.) Because she's nearly 30 and still unwed, Phoebe Throssel (Hepburn) is regarded as an over-the-hill spinster. Thus, when offered the opportunity for a reunion with Captain Brown (Franchot Tone), whom she hasn't seen in years, Phoebe desperately wants to rekindle his affections. To this end, she poses as her own teenaged niece -- and pulls off the ruse beautifully. Alas, despite Katharine Hepburn's wonderful performance and George Stevens' sensitive direction, Quality Street posted a loss of 248,000 dollars, further convincing movie exhibitors that Hepburn was "box office poison." Notably, one of the supporting players is an 18-year-old Joan Fontaine, making her first appearance under her RKO Radio contract.
Critic Reviews for Quality Street
Audience Reviews for Quality Street
Silly light drama with Kate in a dual role. She's unusually skittish in both, not one of her better performances. Although she's surrounded by some of the best actors working at the time this is a minor film, which would have benefited had it been shot in color. A flop on its release this is one of the films that landed Hepburn on the box office poison list and hastened her flight to the stage for a few years.
Quality Street Quotes
There are no approved quotes yet for this movie.