Queen Christina
(1933)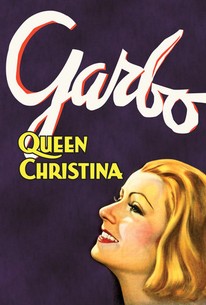 Movie Info
Greta Garbo stars as the title character, a 17th-century Swedish monarch whose life is chronicled from her rise to the throne, to the moment she gave it up for the love of a Spanish ambassador.
Critic Reviews for Queen Christina
Audience Reviews for Queen Christina
This is one of Greta Garbo's better roles, playing the title role of Queen of Sweden Christina. She decides to go out alone -- dressed as a young man -- to get away from all the hubbub of being a royal. In a small inn, she meets John Gilbert, a Spanish envoy on his way to Sweden to meet with Queen Christina, whom he has never met. He believes her to be a young man, and they are forced to share a room in the crowded inn. He discovers her identity and they fall in love. Quite a bit of homoeroticism tinges this film, from Christina's hinted-at affair with one of her ladies-in-waiting, to Gilbert's attraction to whom he believes to be a boy. The idea that anyone could mistake Garbo for a boy is preposterous, of course. Some beautiful camera work inside the castle makes up for some shoddy back projection during Christina's travels. Garbo's performance is a little overly dramatic, as many of her talking parts were, but the end shot, where she sails off to a new life, is the stuff of legend. UPDATE: Saw this again today, and am upping my rating a star. That might be a bit generous, but every time I see this film (I think I'm up to about a half dozen) the better I like Garbo's performance.
½
Epic, tragic and ripe with pre-code innuendo. Garbo is such a terrific star, not because she elevates her characters but because she makes them so damn personable. It's hard not to love her.
Randy Tippy
Super Reviewer
I am not a fan. There's a kind of simplicity to old movies you never get in modern times anymore, and sometimes it's a downfall. It was like The Scarlet Empress without all the good parts - the psychotics, the innuendo, the lavish visuals. Basically, it's Greta Garbo parading around in men's clothing looking strong and slightly lesbian. I only like Greta Garbo when she's glamourous, sorry.
Jennifer Xu
Super Reviewer
Queen Christina Quotes
There are no approved quotes yet for this movie.