Queen Kelly
(1929)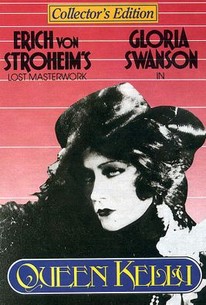 Movie Info
A young convent girl is seduced by a European nobleman, arousing the ire of his bride-to-be Queen and eventually finding herself exiled to a brothel in East Africa. Visually striking and perverse, Erich von Stroheim's last silent, from which he was discharged by Gloria Swanson, was hastily completed by her with talkie sequences.
Critic Reviews for Queen Kelly
Audience Reviews for Queen Kelly
After reading the glorious memoir Swanson on Swanson by Gloria Swanson I was ravenous to see more of her silent pictures from the dawning of the movie industry. This gem from overspending, OCD ridden director Eric von Stroheim was never officially finished as the production went over budget and there were significant disputes between Stroheim and Swanson, but what was salvaged is a beautiful piece of filmmaking. A type of grown up fairy tale with themes of romanticized violence, renegade from the Catholic Church, and the gamine charm of Swanson herself. Though the ending set in Africa was never filmed, which is a missing plot point, it's still a good watch for anyone with little resources for their own filmmaking endeavors and need inspiration. This was done with little budget and a million tiny problems, but is now a classic.
Spencer S.
Super Reviewer
Wow, that was a great love story, I just wish they could have found all the footage for the ending so we could see it all. I really liked this movie, and if you're a fan of Swanson, you should see it too.
Queen Kelly Quotes
There are no approved quotes yet for this movie.