Queen of the Damned
(2002)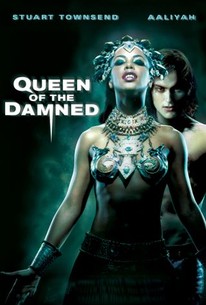 Queen of the Damned Photos
Movie Info
The second and third novels in author Anne Rice's popular book series The Vampire Chronicles provide the inspiration for this horror sequel starring ill-fated actress and recording artist Aaliyah, who was killed in an airplane crash before the film's release. Stuart Townsend is the vampire Lestat, who has awakened from a century-long slumber and turned his considerable energy to rock music. His vampirism identity mistaken for a gothic hard rock publicity stunt along the lines of Kiss or Marilyn Manson, he quickly becomes a pop music sensation. Lestat's powerful music reaches the ear of the slumbering Akasha (Aaliyah), the millennia-old "queen of the vampires" who was the first immortal bloodsucker. Akasha is soon free and embarking on a quest to seize control of the world with Lestat at her side. In the meantime, Lestat becomes an object of fascination for Jesse Reeves (Marguerite Moreau), member of a secret order studying the supernatural called the Talamasca, and a band of ancient vampires come together in an effort to stop Akasha, even though her destruction could potentially cause their own deaths. Queen of the Damned co-stars Lena Olin and Vincent Perez. ~ Karl Williams, Rovi
Critic Reviews for Queen of the Damned
Audience Reviews for Queen of the Damned
½
Cannot understand why my fellow vampire lovers raved about this movie. It's so bad. The special effects, music, acting, story, and uh, well almost everything about it was bad. The only thing slightly redeeming it, is the mood it creates. Unfortunately there isn't a good story to follow when you get into it. I'm sure the book was a lot better.
½
Queen of the Damned is a terrible vampire film based on the Vampire Chronicles by Anne Rice. As a fan of vampire films, I thought that this film simply a missed opportunity to create something good. The film fails on so many levels. The cast is horrible and the plot is unimpressive. As a vampire film, Queen of the Damned is one of the worst that I've seen. This had the potential of being a great horror flick, unfortunately the film just doesn't deliver. The plot is poorly constructed and uninteresting Aaliyah is horrible in the lead, and she's not really convincing in the role. As a matter of fact she really can't act.. The film isn't effective as a horror film, and definitely isn't as memorable as so many other vampire films that came before it. Director Michael Rymer's directing is sloppy, and the end product is a film that is dull, boring, silly and overall a waste of time. Queen of the damned had the potential of being a great film, however due to a bad script, bad cast and bad directing, this film never does succeed at being a good vampire flick. The only thing that the film succeeds at doing is being a forgettable vampire film. As a whole, this film just doesn't cut it, and offers nothing new to the genre. This an entirely forgettable film that is simply put a waste of time. If you enjoy a good vampire film, you won't find it here. This film is awful.
½
A totally different type of Vampire film to The interview with the Vampire. It uses the same character Lestat from the first, who now awakes in current times, and decides to become a rock star....much to the anger of many other Vampires. It was an ok film, pity it didn't have a better story, or bigger budget. The effects are ok, the most enjoyable part was learning some history of Lestat's character. Overall not bad if you like Vampire films but a poor follow on from the first film.
Queen of the Damned Quotes
| | |
| --- | --- |
| David Talbot: | He made Lestat |
| David Talbot: | He made Lestat. |
| Jesse Reeves: | How do you know? |
| David Talbot: | I have Lestat's journal. |
| Jesse Reeves: | I wanna see it. |
| David Talbot: | Only if you promise never to go to that place again. |