Quest For Camelot
(1998)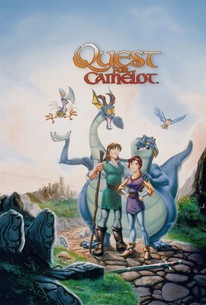 TOMATOMETER
AUDIENCE SCORE
Critic Consensus: Diminished by uneven animation and treacly songs, Quest for Camelot is an adventure that ought to be tossed back to the Lady in the Lake.
Movie Info
Warner Bros. twists the Camelot tale -- adding a female heroine and a cuddly, two-headed dragon.
Critic Reviews for Quest For Camelot
Audience Reviews for Quest For Camelot
one of my favorite animated features the actors were great the only thing i dont like is ruber hes kind of annoying but other than that a classic
Michael Edwards
Super Reviewer
½
This was the company that would make the Iron Giant in a few years? Wow. The characters were uninteresting, the villain was over the top and had no personality and the heroine...Well she isn't very heroic. It's just not very good. Let's start out with some of the good. There was one character who I found interesting. Garrett. Garrett is a blind hermit with martial arts skills who is slowly rebuilding his place in society. I can honestly say he's a pretty cool character. He deserved a better movie than this. Also, there were a few action scenes that were nice. I liked the half man/weaponry raid on Camelot. It had kind of a "Troy" feel to it. Alas, there was far more bad than good. First of all, Kayley was a very unlikeably character. Her story wasn;t interesting, she doesn't really do anything heroic (Garrett pretty much does everything for her)and she was at times annoying. I'm all into the tom boy heroine thing, but it was too stereotypical here. The villain was even worse. He was almost as overacted as the cast of Sharkboy and Lavagirl, and he didn;t really have a personality. He doesn't form diabolocal plans for dictatorship like Scar and he doesn't poison the minds of others like Frollo. And as for his song. Ummmmm...No! There wasn;t much of a plot really. Basically, Kayley has too keep the sword away from the villain but return it to Camelot...Even thiough the villain is in Camelot. Nothing like lo0ng term planning, eh? If you still REALLY want to see this movie, I suggest you just watch the Nostalgia Critic review.
Marc Lewis
Super Reviewer
This was a nice movie. Good to watch with your family. Funny and entertaining. Though I felt tiny tint of boring feeling while watching it. But that was bearable and also ignorable. Some dialogues were really funny. And the animation was okay. Not as bad as "The Black Cauldron".
Dead Angel
Super Reviewer
Quest For Camelot Quotes
| | |
| --- | --- |
| Garrett: | Don't you understand the reason why you can't fly is because you can't agree on anything. There must be something you can agree on. You both love Kayley don't you? |
| | |
| --- | --- |
| Kayley: | But mother Excalibur's been stolen I must go after it! |
| Juliana: | That is a job for the Knights not a young girl! |
| Kayley: | But I want to be a knight, slay dragons, recusing Damsels in distress, what is a Damsel in distress anyway? |
| Juliana: | Now Kayley settle down and try on your new dress! |