Quest for Fire
(1981)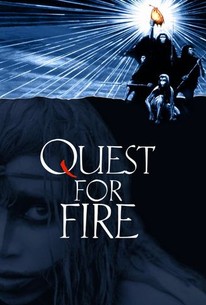 TOMATOMETER
AUDIENCE SCORE
Critic Consensus: Its characters can't do much more than grunt, but that doesn't keep Quest for Fire from offering a deeply resonant -- and surprisingly funny -- look at the beginning of the human race.
Movie Info
Quest for Fire takes place some 80,000 years in the past. A primitive homo sapiens tribe huddles around a natural fire source for comfort and survival. When that source is extinguished, tribesmen Naoh (Everett McGill), Amoukar (Ron Perlman), and Gaw (Nameer El-Kadi) are sent out on a "quest for fire." After several days of wandering through the prehistoric landscape (the film was shot in Canada, Scotland, Iceland, and Kenya), the three come across a cannibal tribe that knows how to produce fire; they save a young girl, Ika (Rae Dawn Chong), from the clutches of the cannibals, with the hope that she'll reveal the secret. Based on a novel by J. H. Rosny Sr., Quest for Fire convincingly creates the world of the past and believably molds its characters within the context of their surroundings and their limited knowledge of the world. The credibility factor is aided by technical consultants Desmond Morris and Anthony Burgess, who respectively developed a set of gestures and a simplistic language for the Ulams and Ivakas. An Oscar went to John Hay and Penny Rose's costume design. ~ Hal Erickson, Rovi
News & Interviews for Quest for Fire
Critic Reviews for Quest for Fire
Audience Reviews for Quest for Fire
½
This is one of the coolest, most interesting, and unique films that I've seen in quite some time, possibly (maybe) ever. To simply, this is a feature length version of the "Dawn of Man" segment from 2001: A Space Odyssey. It takes places (likely) in what is now Europe, only 80,000 years in the past. The main story follows a trio of neanderthal tribesman tasked with going on a journey to find fire and bring it back to their tribe after the fire that they had been using and protecting tragically gets extinguished. This would all be simpler if they were more advanced and could make the fire themselves, but at least they're more developed than one of the other tribes depicted in the film. The story is quite simple, but there's so much more to it than that. Besides being a basic man versus nature survival story, it's also very human and deep, and traces the development of man into a less primitive state of being. Four tribes are depicted in the film, all of them in various stages of development, and each with their own set of values, culture, and language or communication abilities. The story starts out as interesting, and only gets even more so from there as the trio's journey takes them to places that alter their world forever. Yes, you do have to suspend disbelief, and sometimes the material comes off as a bit hokey, but you actually really care about the characters, and are just as delighted as they are when they make new discoveries, even if it is something as simple as learning the concept of laughter. This is a really fascinating film, and it feels like a pretty high water mark to me. Some of it got a little slow for me in a couple of places, but that aside, there's not much (that I'm personally aware of) wrong with it. I thought it was pretty realistic, and well researched, and I liked that it was rather artsy and that the film had no narration (outside of an opening crawl) or real language or subtitles, forcing the viewer to follow things solely based on music cues, facial expressions, actions, and body language. As far as acting goes, it's pretty damn good. This was probably more challenging than it might seem, but everyone does a wonderful job. At the time, none of the cast were known, but that has changed for two of them: Ron Perlman and Rae Dawn Chong. The makeup and effects are pretty decent, though I think Perlman might have been too authentic (sorry bud, I love you and your unique look, but that's probably why the types of roles you get are generally pretty limited. All in all, this is some tremendous stuff, and it's definitely great at provoking thought and discussion. Unfortunately I don't think some people would be mature enough to handle this without giggling, and it's not for all tastes anyway, but I do think it's one that everyone should see.
Chris Weber
Super Reviewer
A stupid artsy type of movie without any real dialogue or story. I didn't get it! I hate this movie, and I do not recommend seeing it.
½
Lots of different types of humans fight each other for fire. I decided Ron Perlman isn't wearing makeup.
Curtis Lilly
Super Reviewer
Quest for Fire Quotes
There are no approved quotes yet for this movie.