Qui êtes-vous, Polly Maggoo? (Who Are You, Polly Maggoo?)
(1966)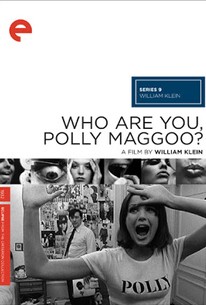 AUDIENCE SCORE
Critic Consensus: No consensus yet.
Qui êtes-vous, Polly Maggoo? (Who Are You, Polly Maggoo?) Photos
Movie Info
Polly Dorothy MacGowan is a model who tells about her experiences when she is interviewed by a television crew in this offbeat satirical comedy. She dreams of a life with prince charming Sami Frey while contending with the lecherous advances of a whole string of men who constantly hit on her. Some spy spoofs and television satires are included in this the directorial debut of William Klein. ~ Dan Pavlides, Rovi
Critic Reviews for Qui êtes-vous, Polly Maggoo? (Who Are You, Polly Maggoo?)
All Critics (2) | Fresh (1) | Rotten (1)
An overload of charming and zany lightweight sight gags that are more silly than funny in their ripping of both French and American cultures.
[William Klein's] satire lacks the savagery or savvy or Godard but he does have fun playing with the image culture of his time...
Audience Reviews for Qui êtes-vous, Polly Maggoo? (Who Are You, Polly Maggoo?)
Delightfully eccentric if dead cynical, "Who Are You, Polly Maggoo?" does for fashion models what Peter Watkins' "Privilege" did for rock stars two years later. Despite its sour subtext, this William Klein satire is quite accessible and seems strangely forgotten. Perhaps audiences were confused about whether the film truly belonged in the "foreign" bin. Given that both the writer-director and star were American, should the story have been set in New York instead of Paris? Dorothy MacGowan -- a real-life fashion queen who abruptly quit show business after this battering role -- plays Polly, a vulnerable supermodel. MacGowan has an interesting, unconventional look. She's covered with light freckles and has a mild case of buckteeth, but is stunning all the same. Her mascara is ridiculously thick, but of course this was the 1960's. She doesn't have much of a personality, and comes off like a blank slate who has thoughts draped on her just as easily as dresses. This pop-culture portrait is light on plot, but the main threads find Polly pursued by two lovestruck men: a foreign prince (Sami Frey) who aims to marry her and a TV host (Jean Rochefort) who's shooting a pseudo-insightful documentary with the same title as the film. But these erratic courtships are secondary to episodic glimpses of Polly's chaotic, stressful lifestyle. What's most endearing about "Polly Maggoo" is that Klein's filmmaking becomes wilder and wilder as the movie continues. The first half-hour is relatively straightforward (the highlight is a fashion show with bulky aluminum outfits that look like deconstructed Chinese-takeout cartons), but then the craziness starts. The jump cuts and surreal insertions begin piling up, and there's even cut-out animation and superimposed graphics. The radical editing and emphasis on interviews and cameras betray an obvious Godard influence, but Klein's version is free of his inspiration's frosty intellectualism. "Polly Maggoo" seems tailor-made for MacGowan, and not just because "Maggoo" is a twist on her own name. The flashed magazine covers are presumably from her past modeling jobs, and there's a still of her screaming for the Beatles that apparently was responsible for her being "discovered." She's a charismatic presence and a decent actress, and she speaks French well besides. Too bad she bowed out of the game so early.
Eric Broome
Super Reviewer
Qui êtes-vous, Polly Maggoo? (Who Are You, Polly Maggoo?) Quotes
There are no approved quotes yet for this movie.