Caos Calmo (Quiet Chaos)
(2009)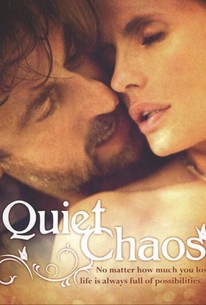 Caos Calmo (Quiet Chaos) Photos
Movie Info
With Quiet Chaos (Caos Calmo), acclaimed Italian helmer Nanni Moretti steps away from his standard directorial role to essay the lead and co-author the script in a gentle psychological drama directed by Antonello Grimaldi. Moretti stars as Pietro, a film executive whose life takes an irreversible and devastating turn one fateful morning. During a trip to the beach with his brother, Pietro's path intersects with that of a woman, Eleonora (Isabella Ferrari), who is drowning in the ocean; horrified, Pietro rushes in to save her. He subsequently returns home only to discover that his wife, Lara, just died in a nasty falling accident; devastated to the core, this nascent widower must make the necessary psychological accommodations to adjust to life as a single parent, with sole responsibility for raising his ten-year-old daughter, Claudia (Blu Yoshimi). Almost instinctively, as a reaction to Lara's death, Pietro opts to sit and wait for his daughter to finish school each day (in a park across from the school), in lieu of abandoning her to his own priorities and commitments. This means that the fellow's colleagues in the film industry must, by necessity, come to do business with him in the park. Through it all, Pietro remains silently dumbfounded that the tragedy itself hasn't shaken him more, that the grief (the "quiet chaos" of the title) is subtly agonizing instead of grossly traumatizing and debilitating. Nevertheless, he ultimately begins to approach a full realization and acceptance of his loss, and gains an enhanced awareness of himself and others from the potentially crippling events thrust into his path. Valeria Golino (Rain Man) co-stars; Roman Polanski appears in a cameo as one of Pietro's industry colleagues. ~ Nathan Southern, Rovi
Critic Reviews for Caos Calmo (Quiet Chaos)
Audience Reviews for Caos Calmo (Quiet Chaos)
A quiet character study regarding a man dealing with the accidental death of his wife, leaving him to care for their ten year old daughter. Facing uncertainties at work and seemingly unable to process his loss, Pietro (Nanni Moretti) daily waits for his daughter in the park across from her school. He attracts the notice of several other people who frequent the park and receives visits from colleagues, friends, and relatives. His brother, Carlo (Alessandro Gassman), and crazy sister-in-law, Marta (Valeria Golino), check in with him from time to time to express their concerns and to try to induce him into a more normal routine, to no avail. The interaction between the father and daughter feels quite natural and provides a handle with which to understand their grief process. There are lighter moments to relieve the gloom, and the bright daily scenes also help to mask what otherwise could have been maudlin. One sex scene toward the end detracted from the overall tone of the film. It seemed out of place and completely unnecessary. This viewer has no problem with scenes of this nature as long as they flow naturally from the story. This one was too jarring and gratuitous.
Mark Abell
Super Reviewer
I liked it even more than The Son's Room; it's similar in a way, but here it doesn't take so long to show the pain, and it's more original. Great, great dialogues and stupid sex scenes.
Alex Figueroba
Super Reviewer
Caos Calmo (Quiet Chaos) Quotes
There are no approved quotes yet for this movie.