Quigley Down Under
(1990)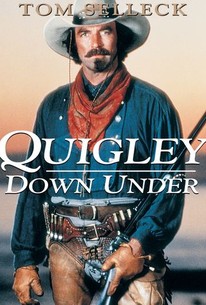 Quigley Down Under Videos
Quigley Down Under Photos
Movie Info
Tom Selleck stars as American cowboy archetype Matthew Quigley in Simon Wincer's outback western Quigley Down Under. Answering an advertisement placed by Australian cattle baron Elliot Marston (Alan Rickman) to come to the rugged and uncivilized Australian countryside and shoot dingoes, Quigley finds himself halfway around the world, only to find that Marston wants to exploit his talents as a sharpshooter in order to wipe out the Aborigine population. Taken aback by this square-jawed genocide, Quigley grabs Marston and hurls him through a window. Marston, who controls the region, sets out to hunt Quigley down. But helping him stay one step ahead of Marston is the addlebrained expatriate American trollop Crazy Cora (Laura San Giacomo) who insists that Quigley is her husband Roy.
Critic Reviews for Quigley Down Under
Audience Reviews for Quigley Down Under
Tom Selleck's best Western has him fighting a racist landowner (Rickman) in Australia. There's loads of horseback riding, and shooting, and fighting and showdowns, the stuff and fabric of Westerns, sure, but what makes this work is the wonderful Laura San Giacomo as a woman traumatized by her past. And she steals a Western, that muy macho domain of lore, right in front of everyone.
Kevin M. Williams
Super Reviewer
½
The idea to take the typical Western plot (stranger gets hired by sadistic land owner and turns against him) and move it to Australia is quite good. Of course, the majority of the film does still feel like a Western, but still the Australian Outback and especially the Aboriginals do make for a very unique atmosphere throughout the film, even if the rest is taken from the pile of usual ingredients. Tom Selleck makes for a likable and charming leading man and we already know Alan Rickman can play wonderfully mean bad guys. It is the female lead with the tragic back story that sometimes feels a bit over the top, and some of the dialogs could have been a bit spicier. But the beautiful scenery, great shootouts and enthralling plot that does not shy away from maiming the innocent brings this film home. An entertaining and visually very pleasing adventure.
Quigley is an American sharpshooter moved to Australia. As in all Westerns, there is the good guy (Quigley) and the bad guy -- in this movie played by Alan Rickman. Their differences of opinion comes with the way Alan's character treats the local aborigines. As someone raised on Westerns featuring the American wild West, it is quite interesting to see a movie set in the Australian wilderness.
Quigley Down Under Quotes
| | |
| --- | --- |
| Elliott Marston: | Very good, O'Flynn. You've improved! |
| O'Flynn: | Do you think I could ever be as good as you, Mr. Marston? |
| Elliott Marston: | What - you mean if you practiced a lot? |
| O'Flynn: | Yeah! |
| Elliott Marston: | No. |
| | |
| --- | --- |
| Elliott Marston: | No man knocks me out of my own house! |
| | |
| --- | --- |
| Elliott Marston: | Some men were born in the wrong century. I was born on the wrong continent. |
| | |
| --- | --- |
| Matthew Quigley: | Said I didn't have much use for 'em, never said I didn't know how to use 'em. (six shooter) |
| Matthew Quigley: | Said I didn't have much use for 'em, never said I didn't know how to use 'em. [six shooter] |