Quills
(2000)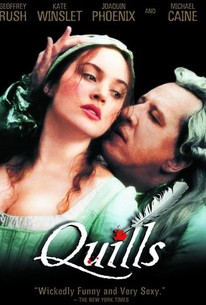 TOMATOMETER
AUDIENCE SCORE
Critic Consensus: Though hard to watch, this film's disturbing exploration of freedom of expression is both seductive and thought-provoking.
Movie Info
The Marquis de Sade was a man who liked to stir up trouble, at a time when his native France was in a state of tremendous political turmoil, and this historical drama examines how much controversy he could cause even under repressive circumstances. In the aftermath of the French Revolution, the Marquis de Sade (Geoffrey Rush) manages to narrowly escape execution during the Reign of Terror, and instead is sentenced to the Charenton Asylum for the Insane. Coulmier (Joaquin Phoenix), the priest who heads the asylum, is sympathetic to the political machinations that have put the Marquis in his care, and allows him not only to write what he pleases, but to stage theater pieces using the other patients as actors. Royer-Collard (Michael Caine), a tyrannical doctor overseeing the mental institutions of Napoleonic France, is as outraged as the emperor when he reads Justine, a scabrous volume the Marquis penned while an inmate at Charenton, and he demands that de Sade be stopped. But Royer-Collard soon learns that stopping the Marquis from writing is not so simple; when de Sade's quills and ink are taken from him, he uses wine and even his own blood to write his stories. When these options are no longer available, he dictates his work with the help of Madeline (Kate Winslet), a laundry girl working at the asylum, who is fascinated by the notorious de Sade, though she declines his frequent requests to satisfy his notorious sexual appetites. Based on the play by Doug Wright (who also penned the screenplay), Quills was directed by Philip Kaufman, who previously documented the line between eroticism and literature in Henry and June and The Unbearable Lightness of Being. ~ Mark Deming, Rovi
News & Interviews for Quills
Critic Reviews for Quills
Audience Reviews for Quills
½
My love for this film runs very deep indeed. As a fan of the Marquis de Sade and everything spawned after his name, as well as an advocate for the the uncensored underbelly of the literary greats, this film possessed everything someone such as myself could hope for. Moments of genuine hilarity blunted by the brutish historical truth, every single character in this film has a role to play and plays it magnificently. Rush is a superbly talented actor who never fails to keep my eyes on the screen and even Phoenix is acceptable as a preist with a naughty streak. A truly magnificent film.
Unknown Hobo
Super Reviewer
With a brilliant cast I did expect more from this. I'm unsure if she was going for a some sort of style, but Winslet looked like she couldn't act. Maybe that was just her character. Rush did a fantastic job as usual. I would have liked a better explanation to the beginning part. It seemed out of place compared to the rest of the film.
Sophie Burgess
Super Reviewer
An adaptation of the play based on a chapter of the life of the infamous Marquis De Sade whose lascivious writings scandalized post revolutionary France. Set within the walls of a church-run lunatic asylum where the Marquis was incarcerated to avoid the ignominy of prison, he is shown as a rebel using his literature to infuriate the religious establishment. Geoffrey Rush clearly relished the role and is ably supported by Joaquin Phoenix as the asylum's governor, a good man trapped within the framework of an intolerant heirarchy and Kate Winslett as the common serving girl who helps the Marquis distribute his works. Michael Caine is a little less convincing, probably because of his casting against type as the cruel, sadistic tyrant who is dispatched to "cure" him. It has shades of both Amadeus and The Madness Of King George, although the characterisation and drama of those films is not quite matched here, but it's an interesting and well made historical drama that's worth seeing for Rush's performance alone.
Quills Quotes
| | |
| --- | --- |
| Marquis de Sade: | It's a powerful aphrodisiac, isn't it? Having power over another man. |
| | |
| --- | --- |
| Marquis de Sade: | I've been to hell, young man. You've only read about it. |