Quintet
(1979)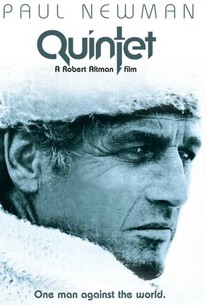 Movie Info
Perhaps the least seen but most talked about film of Robert Altman's career, Quintet is a somber science fiction tale that takes place after a nuclear holocaust has thrown the world into another Ice Age. A man named Essex (Paul Newman) and his pregnant wife Vivia (Brigitte Fossey) are wandering the desolate, frozen landscape and attempting to find Essex's brother, Francha (Tom Hill). They finally locate him in a frozen city, occupied by a number of apocalyptic survivors who who pass their time playing a mysterious game called "Quintet." No one is able to explain just how it is played, but Grigor (Fernando Rey) appears to act as the referee, and the stakes of the game are unusually high - losing means being thrown out into the snow and devoured by Rottweilers. Francha is soon killed, not as a casualty of Quintet per se, but for playing an assassination game on the side to relieve his own ennui. As 'collateral damage,', Vivia and the rest of Francha's family are soon extinguished as well. Essex is not happy with the way they've been rubbed out, but as he attempts to seek revenge, he is only drawn deeper into the lethal competition of Quintet. While this picture received negative reviews on its initial release, in retrospect it is worth noting that the photography (by Jean Boffety) and production design (by Leon Ericksen) are beautiful and striking, and that the film boasts one of Altman's strongest international casts, including Vittorio Gassman, Nina Van Pallandt, and Bibi Andersson, as befits its European-art-movie ambiance; the influence of the equally opaque, allegorical, game-playing Last Year at Marienbad (1961) is especially strong. ~ Mark Deming, Rovi
Critic Reviews for Quintet
Audience Reviews for Quintet
½
This had to be one of the most boring Sci-Fi movies ever - and it had Paul Newman in it.
Sean Gillespie
Super Reviewer
½
It's hard for me to call Robert Altman's "Quintet" an out right terrible film because everything we see on screen seems entirely deliberate. From the slow pace, to the detailed production design, to the multiracial casting, to the etherial score, to the philosophical musings- "Quintet" seems extremely self assured. Unfortunately, I found none of it interesting. For me, this was slow nonsense that added up to about nothing. I feel like Altman is trying to say something about life and death with this apocalyptic tale (and that deadly board game) but it all comes across so muddled. It doesn't help that Paul Newman's performance is the definition of 'wooden.' "Quintet" sufficiently ended Altman's legendary 1970s run and ousted him from Hollywood where he spent the 1980s adapting little seen plays into independent films before reemerging in the 1990s with "The Player." Side note: If you like the film "The Road" (which I hated), you will probably be much more forgiving to "Quintet."
Steven Carrier
Super Reviewer
Quintet Quotes
There are no approved quotes yet for this movie.