Rabbit Hole
(2010)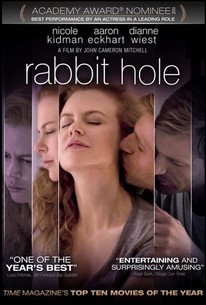 TOMATOMETER
AUDIENCE SCORE
Critic Consensus: It's often painful to watch, but Rabbit Hole's finely written script and convincing performances make it worth the effort.
Movie Info
RABBIT HOLE is a vivid, hopeful, honest and unexpectedly witty portrait of a family searching for what remains possible in the most impossible of all situations.

Becca and Howie Corbett (NICOLE KIDMAN and AARON ECKHART) are returning to their everyday existence in the wake of a shocking, sudden loss. Just eight months ago, they were a happy suburban family with everything they wanted. Now, they are caught in a maze of memory, longing, guilt, recrimination, sarcasm and tightly controlled rage from which they cannot escape. While Becca finds pain in the familiar, Howie finds comfort.

The shifts come in abrupt, unforeseen moments. Becca hesitantly opens up to her opinionated, loving mother (DIANNE WIEST) and secretly reaches out to the teenager involved in the accident that changed everything (MILES TELLER); while Howie lashes out and imagines solace with another woman (SANDRA OH). Yet, as off track as they are, the couple keeps trying to find their way back to a life that still holds the potential for beauty, laughter and happiness. The resulting journey is an intimate glimpse into two people learning to re-engage with each other and a world that has been tilted off its axis.

RABBIT HOLE is directed by John Cameron Mitchell (HEDWIG AND THE ANGRY INCH) from a script by acclaimed playwright David Lindsay-Abaire, adapted from his Pulitzer Prize-winning play. The cast, led by Academy Award winner Nicole Kidman (THE HOURS, Actress in a Leading Role, 2002) and Golden Globe nominee Aaron Eckhart, includes two-time Oscar winner Dianne Wiest (HANNAH AND HER SISTERS, Actress in a Supporting Role, 1986; BULLETS OVER BROADWAY, Actress in a Supporting Role, 1994), Tammy Blanchard, Miles Teller, Giancarlo Esposito, Jon Tenney and Sandra Oh. -- (C) Lionsgate
News & Interviews for Rabbit Hole
Critic Reviews for Rabbit Hole
Audience Reviews for Rabbit Hole
John Cameron Mitchell tells with great sensibility this delicate and painfully sad story that could have been made too depressive and hard to watch by a heavy-handed filmmaker, while the performances are outstanding, especially from Kidman and Wiest.
Carlos Magalhães
Super Reviewer
½
Most movies of plays are just filmed versions of the plays, but playwright David Lindsay-Abaire actually uses the medium of film to create atmosphere, momentum, and chemistry. The play is a lot of TELL - and rather good, imagistic TELL; it won a freakin' Pulitzer - but in this adaptation, we get to see all the SHOW: Becca and Jason's acquaintanceship evolving throughout the movie (instead of just in the penultimate scene in the original script), Becca punching out a random mom at the grocery store, Becca breaking down at seeing Jason going to Prom. Nicole Kidman deserved her Oscar nod. Her posture is stooped, her eyes are bored but darty, and she gets so close to crying but never does (until the end). Miles Teller (who plays cute and dorky Willard in the new Footloose) is wonderful as the repentant teenager. In disagreement with Flixster reviewer, Jim Hunter, I was rather impressed with Aaron Eckhart's emotional outburst. He didn't seem so much angry as heartbroken and at the end of his rope. However, upon second viewing, I find the movie much sadder than the play, which DLA explicitly said not to do in his script notes. The music is sad and mellow and the shots of Becca's day-to-day life overdramatize her dazed emptiness. Izzy, the fuck-up sister, is also under-utilized whereas she provides much necessary comic relief in the play.
Alice Shen
Super Reviewer
A promising premise, but in all a film that's - sorry - kind of boring. There's plenty of pain and struggle, but little intrigue as this couple makes it way toward normal after the death of their son. I don't really understand why, other than her being Nicole Kidman, the Academy nominated Nicole Kidman for Best Actress in this film. And to do so at the cost of ignoring Aaron Eckhart in the Best Actor category seems particularly absurd. The steam seems to go out of this one when the subplots start to pay out, around the two-thirds mark, but stick with it for the ending, it's one of several powerful moments you'll find here. A good movie, but one that would have been better had it not insisted on being even this long - a 75-minute version with fewer side characters might have struck an even stronger chord.
Daniel Perry
Super Reviewer
Rabbit Hole Quotes
| | |
| --- | --- |
| Becca: | And then what? |
| Howie: | I don't know... Something though. |
| | |
| --- | --- |
| Becca: | Does it ever go away? |
| Nat: | No, I don't think it does. Not for me, it hasn't - has gone on for eleven years. But it changes though. |
| Nat: | No, I don't think it does. Not for me, it hasn't - it has gone on for eleven years. But it changes though. |
| Nat: | No, I don't think it does. Not for me, it hasn't, and that's goin' on eleven years. It changes, though. |
| Becca: | How? |