Rabbit-Proof Fence
(2002)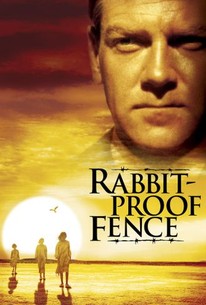 Rabbit-Proof Fence Photos
Movie Info
In Western Australia, 1931, the small depot of Jigalong sits on the edge of the Gibson Desert. Running through Jigalong and out into the desert is a rabbit-proof fence that bisects Australia from north to south. The fence was built to keep rabbits on one side and pasture on the other. This remote country is home to three spirited Aboriginal girls, Molly, her sister Daisy, and their cousin Gracie. The girls' white fathers are fence workers who have moved on. Now their only contact with white Australia is the weekly ration day at Jigalong Depot. In Perth, AO Neville, the area's Chief Protector of Aborigines, receives word that the three girls are running wild. He believes the Aboriginal race is dying out and believes that the answer to the "colored problem" is to breed out the Aboriginal race. To achieve this he has ruled that children of mixed marriages cannot marry full-blooded Aborigines. Settlements are set up across the state and "half-caste" children are removed from their families and prepared for their "new life in white society" as domestic servants and laborers. Neville orders the removal of Molly, Gracie, and Daisy and they are relocated 1,200 miles from home to a grim settlement. The harsh conditions they must live under shock Molly, and she convinces Daisy and Gracie to run away with her. With Moodoo, a cruel and master tracker on their tails, they begin a grueling three-month journey home, following the rabbit-proof fence that will guide them back to their mother and their rightful home.
Critic Reviews for Rabbit-Proof Fence
Audience Reviews for Rabbit-Proof Fence
½
Kenneth Branagh is a compelling villain, and some of the cinematography is great but there simply isn't enough plot to carry this true-story drama to the finish line with full attention in tow.
Sam Barnett
Super Reviewer
Rabbit-Proof Fence is visually stunning, well-acted film telling of the racism by the British against the Aboriginal peoples of Australia in the 1930's. It's an emotional, heart-breaking jouney enhanced by a haunting and beautiful score by Peter Gabriel.
Raymond Wieser
Super Reviewer
½
A powerful true story revealing a time in Australian history known as "The Stolen Nation". A gutsy focus on one family and their courage to evade their government forced destinies. Great perforrmances all around.
Lady D'arbanville
Super Reviewer
Rabbit-Proof Fence Quotes
| | |
| --- | --- |
| A.O. Neville: | Just because people have Neolithic tools, Inspector, doesn't mean they have Neolithic minds. |
| | |
| --- | --- |
| Molly Craig: | They make me sick, these people, they make me sick. |
| | |
| --- | --- |
| A.O. Neville: | Half-caste children have been gathered up and brought here to give them the benefit of everything our culture has to offer. For if we are to fit and train such children for the future, they cannot be left as they are, and in spite of himself, the native must be helped. |
| | |
| --- | --- |
| A.O. Neville: | If only they would understand what we are trying to do for them. |