Race
(2016)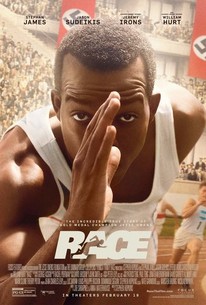 TOMATOMETER
AUDIENCE SCORE
Critic Consensus: Race is nowhere near as thrillingly fleet or agile as its subject, but the story -- and a winning central performance from Stephan James -- are enough to carry it over the finish line.
Movie Info
Race is based on the incredible true story of Jesse Owens, the legendary athletic superstar whose quest to become the greatest track and field athlete in history thrusts him onto the world stage of the 1936 Olympics, where he faces off against Adolf Hitler's vision of Aryan supremacy. Race is an enthralling film about courage, determination, tolerance, and friendship, and an inspiring drama about one man's fight to become an Olympic legend. (c) Focus
News & Interviews for Race
Audience Reviews for Race
True stories about athletes have been the same for decades. An unlikely man becomes the champion in a sport that nobody believed he could. It is has almost become a custom for films of this type, so it all comes down to whether or not the writing does anything new and clever to draw a crowd. While I do not believe Race is the film to win over any new viewers of this particular genre, it is definitely a heartfelt depiction of its main focus in Jesse Owens. Here is why I believe Race is better than the average true story about an athlete, while still following the same tired formula. Against all odds, Jesse Owens (Stephan James) goes from living in a lower-class home with a fairly large family, to very quickly becoming globally known as one of the most talent olympians in history, at the time. Taking place in the mid 1930's and dealing with racism and rights, Race has many more meanings to its title. That is by far the most compelling aspect about this film. The fact that this man was able to sound out the chatter being thrown at him on a daily basis and just focus on his dream, was absolutely inspiring to say the least. That being said, although the core story in Race is compelling, the pacing and lack of excitement is sorely absent. We live in a time where audience members demand superhero battles every 30 seconds in order to be entertained, forgetting about the fact that there are some truly great dramas out there every year that go under the radar. While Race is not a fantastic film that I think should have been seen by everyone, its story is definitely worth the price of admission. On the other hand, the racing throughout this film hardly ever embraces the use of fast or slow motion, leaving out any opportunity to feel what each character is feeling in the moment. Each race plays out more like a live-television event, but if that it what they were going for, job well-done. I personally felt extremely let down by this, feeling no sense of excitement, and being a 130-minute film, it began to drag fairly quickly. Pairing Jason Sudeikis as his mentor was a very questionable choice right off the bat, but quite honestly, he may just be the best part of this film. The deep character moments between him and Stephan James were tremendous and you truly believed that they shared this chemistry in real life. James' chemistry with his significant other, played enjoyable well by Shanice Banton, was off the charts and had me slightly tearing up every time they were on screen together. Of all the great character moments throughout this film, you would think that it would be a more compelling story, but the core of this film is about Owens' racing, which is probably the least interesting aspect about it. While I was able to find much more enjoyment than disappointment throughout the duration of this picture, it goes without saying that it could have been a much tighter script in the end. Overall, Race embraces its core characters and fleshes them out very well, but leaves the real story slightly muddled in the final act. It feels about 20-30 minutes too long, and yet I still found myself needed more, which is definitely due to the slightly boring screenplay. Did I believe everything that was happening? Yes, but it did feel dragged out and overlong. Race is a great cable watch, but not something you have to rush out and see.
½
With a title that is considered a dual meaning (the type of event shown and the racial discrimination), Race is an interesting biopic on Jesse Owens and how he managed to defy the odds and compete in the 1936 Berlin Olympic Games. Not knowing much about Jesse Owens, I was completely captivated. A class act performance by Sudeikis who should be in way more drama films as the guy can obviously act! Stephan James was also excellent as Jesse Owens and also looked the part. There are a few issues; the film tries too hard to showcase the racial discrimination (especially when at the Olympic Games) and focusses too much on Owens' love life for my taste.
Luke Andrews
Super Reviewer
Destined to put American children to sleep in thousands of eighth grade classrooms across the country here paradoxically is a work that chooses to point out the evils of racism all while racist itself, like the town drunk railing against alcoholism as closing time in the bar approaches. While it discusses that Americans had no right to hold their noses at infamous Nazi racism against Jews, the work itself grants Mr. Owens (whose story this supposedly is) only the most cursory of glances. Still, it is so inoffensively offered that it's very mediocrity it will be presented as bonafide history, the work as bonafide work, mainly because as I write this (2016) no one has seen fit to yet give the man his due..
Kevin M. Williams
Super Reviewer
Race Quotes
| | |
| --- | --- |
| Jesse Owens: | Nothing matters. Not color, not money, not even hate. |
| | |
| --- | --- |
| Jesse Owens: | Out there there ain't no black or white, just fast or slow. |
| | |
| --- | --- |
| Jesse Owens: | I got people lookin' at me for an example. |
| | |
| --- | --- |
| Jesse Owens: | You got a problem coach? Want me to do it again? |