Race the Sun
(1996)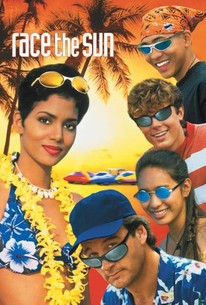 Movie Info
Loosely based on a true account, this family drama centers on a group of aimless Hawaiian teens who with the support of two inspirational teachers turn their lives around by building a solar powered car and racing it across the Australian outback during the World Solar Challenge.
Critic Reviews for Race the Sun
Audience Reviews for Race the Sun
Feel good comedy-drama with a nice story and actors like Halle Berry and James Belushi in it! Story is is loosely based on the true story of the Konawaena High School Solar Car Team, which finished 18th in the 1990 World Solar Challenge and was written by Barry Morrow, who had shared the 1988 Academy Award for Writing Original Screenplay for Rain Man. Of course, do not expect originality in this one like in The Rain Man... most of it is corny, using clichés and most of the time is very predictable! Still, you can enjoy the exciting spectacle of the race but the big positive for this movie is the attitude and the heart it has! If you want to teach your teenagers how to set aside their differences and insecurities to bond as a team - this is a right tool. This movie won't open your horizons or bring novelties but it's still uplifting experience. Light entertainment with right message.
This film has its heart in the right place but is just another mediocre teen-misfits-make-good movie. A real-life story of determination and courage turned into formulaic mush.
Dean McKenna
Super Reviewer
Race the Sun Quotes
There are no approved quotes yet for this movie.