Rachel Getting Married
(2008)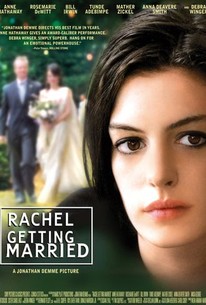 TOMATOMETER
AUDIENCE SCORE
Critic Consensus: Rachel Getting Married is an engrossing tale of family angst, highlighted by Anne Hathaway's powerful performance and director Jonathan Demme's return to form.
Rachel Getting Married Photos
Movie Info
When Kym returns to the Buchman family home for the wedding of her sister Rachel, she brings a long history of personal crisis, family conflict and tragedy along with her. The wedding couple's abundant party of friends and relations has gathered for a joyful weekend of feasting, music and love, but Kym--with her biting one-liners and flair for bombshell drama--is a catalyst for long-simmering tensions in the family dynamic.
Critic Reviews for Rachel Getting Married
Audience Reviews for Rachel Getting Married
Miserable, unlikable people interact with other miserable, unlikable people. How is that supposed to be entertainment? Anne Hathaway's character is one of the more loathsome leads you'll ever see in a movie.
You'd better be in a good mood when you see this; it is very much of a downward spiral. Beautiful example of ensemble acting. The family interaction is so real you lose yourself in their dysfunctional drama. Of course the star of the show is Anne Hathaway. I'm not big on movies about addiction and recovering addicts, but Hathaway has gone so deeply into the psyche of her character that you'd think she herself had lived through the experience. Without a doubt, this is Hathaway's best performance so far. I've never seen her so fully inhabit a character. Props too to Bill Irwin, the father who cares too blindly and, guiltily, too much.
Lanning : )
Super Reviewer
It's not that this is bad movie -- it's very very well made and the acting is excellent. Also loved the music. I guess I just couldn't relate to the "family agst" and Connecticut suburbia. Recommended, but not encouraged.
Jason Robinson
Super Reviewer
Rachel Getting Married Quotes
| | |
| --- | --- |
| Kym Buchman: | When I was sixteen, I was babysitting my little brother. And I was, um... I had taken all these Percocet. And I was unbelievably high and I... we had driven over to the park on Lakeshore. And he was in his red socks just running around in these piles of leaves. And, um, he would bury me and I would bury him in the leaves. And he was pretending that he was a train. And so he was charging through the leaves, making tracks, and I was the caboose, and I was, um... so he kept saying, coal, caboose! Coal, caboose! And, um, we were... it was time to go and I was driving home... and... I lost control of the car. And drove off the bridge. And the car went into the lake. And I couldn't get him out of his car seat. And he drowned. And I struggle with God so much, because I can't forgive myself. And I don't really want to right now. I can live with it, but I can't forgive myself. And sometimes I don't want to believe in a God that could forgive me. But I do want to be sober. I'm alive and I'm present and there's nothing controlling me. If I hurt someone, I hurt someone. I can apologize, and they can forgive me... or not. But I can change. And I just wanted to share that and say congratulations that God makes you look up, I'm so happy for you, but if he doesn't, come here. That's all. Thank you. |
| | |
| --- | --- |
| Kym Buchman: | Hello, I'm Shiva the Destroyer and Harbringer of Doom |
| Kym Buchman: | I'm Shiva the destroyer and your harbinger of doom for this evening. |
| | |
| --- | --- |
| Kym Buchman: | Sisterhood conquers all. |
| | |
| --- | --- |
| Kym Buchman: | Seriously, you're so tiny, it's like you're Asian. |