Racing Stripes
(2005)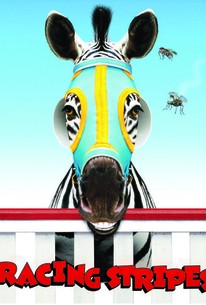 TOMATOMETER
AUDIENCE SCORE
Critic Consensus: Racing Stripes might be good for a few laps with younger viewers, but it's too blandly predictable to truly recommend for an all-ages audience.
Movie Info
In the middle of a raging thunderstorm, a traveling circus accidentally leaves behind some very precious cargo--a baby zebra. Horse farmer Nolan Walsh, who takes him home to his young daughter Channing, rescues the gangly little foal. Once a champion thoroughbred trainer, Walsh has given up horse training for a quiet life with Channing on their modest Kentucky farm. The little zebra, or "Stripes," as Channing calls him, is soon introduced to the farm's misfit troupe of barnyard residents, led by a cranky Shetland Pony named Tucker and Franny, a wise old goat who keeps the family in line. Goose, a deranged big-city pelican that's hiding out in the sticks until the heat dies down in Jersey, joins the group. The un-aptly named bloodhound Lightening keeps a lazy eye on goings-on at the farm - in between naps. The Walsh farm borders the Turfway Racetrack, where highly skilled thoroughbreds compete for horse racing's top honor, the ultra-prestigious Kentucky Crown. From the first moment Stripes lays eyes on the track, he's hooked--he knows that if he could just get the chance, he could leave all those other horses in the dust. What he doesn't know is--he's not exactly a horse. But with characteristic zeal, he devotes himself to training for the big time, with a little help from Tucker, who has coached a host of champion racehorses in the past.
Critic Reviews for Racing Stripes
Audience Reviews for Racing Stripes
A terribly made film and a embarassment to all movies everywhere.
Jim Careter
Super Reviewer
The combination of bright action, talking animals, exciting races and a comically pelican named Goose should make me laugh heaps better than grubby, bumbling flies Buzz and Scuzz. So cute, funny, heartwarming and a subtly surreal fantasy. Racing Stripes is a pleasure to watch simply for its animal stunts. I suppose one can never get too old or intellectual to enjoy a dancing monkey, so to speak. There are a few instances of animal "stunts" being too dangerous for the animals - such as Stripes' wipeout, so these are animated with CGI, too, and they're integrated very well. The animal computer effects are as good as they were in Babe; the quality photography shows off lots of animals, and the voice cast is studded with such stars as Frankie Muniz, Snoop Dogg, Dustin Hoffman, Whoopi Goldberg, Joe Pantoliano and Mandy Moore.
Dean McKenna
Super Reviewer
½
The movie is average. It actually has some pretty funny parts at times and though it's for the kids and silly, adults may enjoy some of the hidden humor that the little ones may not pick up on. It's an inspirational story for children that offer's that little bit of faith needed for those who find themselves picked on or a bit different from the rest.... uniqueness is a good thing.... However, the same thing that makes it good is also it's flaw. We have seen this story told a hundred times. The under dog finds faith in friends and in himself and makes that last push to win the big...whatever... doesn't really matter if it's a Zebra or the million of other movies that features the same topic... it's all the same. Overall: It's a good movie for children and it's a fun flick to watch as there is some creativty and comical parts too it but it's super predictable and not very original as far as the plot itself is concerned.
Bobby Hobbs
Super Reviewer
Racing Stripes Quotes
There are no approved quotes yet for this movie.