Radio
(2003)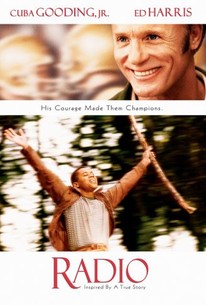 Movie Info
James Robert Kennedy--nicknamed 'Radio' because of his vintage radio collection and his love of music--is a loner in Anderson, South Carolina, pushing his ever-present grocery cart up and down the streets. He speaks to no one and is rarely spoken to, until one day, Coach Harold Jones, one of the town's most respected men, and coach of the popular high school football team, befriends him. Radio is suspicious at first. But Coach Jones is persistent, even enlisting the help of Radio's mother. Jones' friends and family are taken aback as well since, until he met Radio, all his energies were poured exclusively into football. Slowly, Coach Jones earns Radio's trust and opens up a new world to him. He invites Radio to help out at football practice and during games and to sit in on his classes at school, despite the initial misgivings of Principal Daniels. He also champions him to the football players, the students and faculty. Coach Jones' life is also enriched by Radio, from whom he learns to value friendship and family ties as much as he does coaching football. Still, there are those in town who believe that Coach Jones' devotion to the young man is distracting him from his duties as head coach of the football team. There are several attempts to have Radio barred from the classroom and, after his mother's untimely death, remanded to a mental-health facility. Coach Jones valiantly fights off these efforts, but he is finally forced to make a difficult decision, which will impact both his growing friendship with Radio and his career as a football coach.
News & Interviews for Radio
Audience Reviews for Radio
½
How they took a story that is inherently so moving and turned it into a jumbled, lifeless mess is beyond my comprehension. It's as if they let the real life Radio write and direct the film.
½
Radio is yet another in a long list of feel good movies. But I believe that this is the best feel good movie since October Sky. Cuba Gooding Jr. and Ed Harris deliver strong performances here. Cuba Gooding Jr. portrays Robert "Radio" Kennedy a young man with mental problems, and Ed Harris portrays Coach Jones, the coach of the local High School who befriends Radio after Jones's team terrorizes him. Radio At first doesn't open up, but after a while he warms up to Coach Jones. However this friendship is hard because of the obvious mental issues that Radio has. Radio is said to be a distraction by many of the parents, and teachers. However Coach Jones ignores this, and defies what some parents say, and he builds a strong friendship with Radio. The film has all the usual feel good traits of a feel good movie, and is the type of film that you can watch with the entire family and enjoy it for what it is. A very moving stoiry, Cuba Gooding Jr. and Ed Harris performances are believable enough and the rest of the cast do a good job acting alongside Harris and Gooding Jr. Radio mixes elements of a feel good film with sports drama, and theres nothing here that you can't hate. The film is not perfect of course, I mean it's a film we've seen a hundred times before, but Radio is still a good enough film to provide you with two hours of good family entertainment. Radio is a powerful film about what it truly means to be human, and how some situations can bring out the best out of people. A well done film that is a must see, not the best ever made, but definitely a film to watch and make you feel good.
This is quite a powerful film. Cuba Gooding Jr. turns in a brilliant performance as the mentally challenged loner James Robert Kennedy nicknamed "Radio" due to his vintage radio collection in which one is always in his hand playing music he loves, and gives a "score" to his lonely existence of pushing a grocery cart up and down the streets of a South Carolina town. Ed Harris is brilliant as usual as the town's popular high school football team coach who takes an interest in Radio upon seeing him watching a practice session. His friendship and concern for Radio develops into something that means much more than football to the very well respected coach, Harold Jones. Jones allows Radio to be part of the team's practices and games on the sidelines, and sit in on his classes in school which opens up a whole new world for James(Radio), and essentially gives him a life that he is in dire need of.
Radio Quotes
| | |
| --- | --- |
| James Robert "Radio" Kennedy: | Where my pie!? |
| James Robert "Radio" Kennedy: | Where's my pie!? |