A Rage in Harlem
(1991)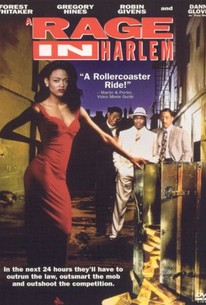 TOMATOMETER
AUDIENCE SCORE
Critic Consensus: If it can't quite live up to its source material, A Rage in Harlem still proves a stylishly effective period thriller.
Movie Info
Bill Duke directs this quirky film adaptation of Chester Himes' crime novel -- a heavily plotted gangster tale with a sweet love story hidden underneath. The film begins in Natchez, Mississippi in 1956. During a police shoot-out with the mob leader Slim's (Badja Djola) gang, Slim's moll Imabelle (Robin Givens) takes off with a cadre of stolen gold. As a result, Imabelle is chased by Slim's mob from Mississippi to New York. By the time she reaches Harlem, she is broke and has to figure out a way to ditch the trunk full of gold. She finds herself at the annual Undertaker's Ball, where she sees the big and dumb Jackson (Forest Whitaker), a bumbling undertaker's assistant. She spots Jackson as a mark that she can use as a cover and latches onto him immediately. She moves in with him to hide out, but Imabelle becomes taken with his innocence. For his part, Jackson falls head over heels in love with her. But the Mississippi mob catches up with her and takes her away. Jackson calls in his street-wise brother Goldy (Gregory Hines) to help him rescue Imabelle. Jackson fears that Imabelle has been kidnapped. But Goldy knows better -- he still agrees to help him but Goldy wants the gold for himself.
Critic Reviews for A Rage in Harlem
Audience Reviews for A Rage in Harlem
½
(Includes one minor spoiler, but it's unrelated to the plot and really more of a recommendation.) Surprised to see so few votes and comments for A Rage in Harlem - it was a modest commercial hit in Britain, so perhaps the all-black casting and setting just didn't play Peoria. The tone of this stylish, good-looking period crime adventure swings wildly between brutal, raunchy, tragic and comic, but a clever, funny script and likeable characters - especially Gregory Hines's big-hearted wiseguy Goldy, but also several delightfully written minor roles - maintain attention and sympathy throughout what could otherwise have been a bumpy ride. It's an emotionally engaging film, much more character-driven than the average urban thriller of the 1990s. Its purely incidental pleasures are many, topped by a splendid musical treat in the shape of cult R 'n' B hero Screamin' Jay Hawkins, giving a no-holds-barred performance of his voodoo classic I Put a Spell on You at the Harlem Undertakers' Ball. If you have a taste for the old school of black show business, this sequence will have you holding up the rest of the picture until you've given Screamin' Jay an encore. Thrills, laughs, and pathos, dished up with verve and heart, make a film that many of us still remember very affectionately.
Cassandra Maples
Super Reviewer
½
Average comic thriller interesting only for it's unusual adaptation of the book upon it was based, as it concentrates on the crooks rather than the cops.
A Rage in Harlem Quotes
There are no approved quotes yet for this movie.