Raging Bull
(1980)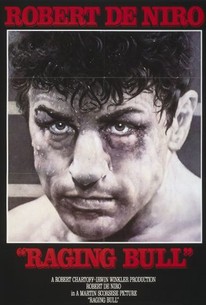 TOMATOMETER
AUDIENCE SCORE
Critic Consensus: Arguably Martin Scorsese's and Robert De Niro's finest film, Raging Bull is often painful to watch, but it's a searing, powerful work about an unsympathetic hero.
Movie Info
The story of Jake LaMotta, a former middleweight boxing champion, whose reputation for tenacity and success in the ring was offset by his troubled domestic life: full of rage, jealousy, and suspicion--particularly towards his wife and manager/brother--which, in the end, left him destitute, alone, and seeking redemption.
News & Interviews for Raging Bull
Critic Reviews for Raging Bull
Audience Reviews for Raging Bull
Superbly directed, edited and acted, this top-notch boxing drama is a fascinating character study centered on an aggressive, insecure man overcome by intense jealousy and paranoia. A haunting film crafted with a lot of honesty and unpretentious realism.
Carlos Magalhães
Super Reviewer
While shooting "The Godfather Part II", Robert DeNiro found himself reading the book "Raging Bull: My Story", based on the life of 1950's middleweight boxer Jake LaMotta. It was a story he felt very passionate about bringing to the screen and took it to his good friend, Martin Scorsese. Scorsese was, at first, reluctant to do a boxing movie as "Rocky" had recently been released to massive success and he, himself, was going through a personal crisis at the time due to the failure of their previous collaboration "New York, New York" and his spiralling addiction to cocaine and lithium - leaving him hospitalised with internal bleeding. They brought in screenwriter's Mardik Martin ("Mean Streets") and Paul Schrader ("Taxi Driver") and the film eventually went ahead. It became a form of therapy for Scorsese and has since been lauded as a cinematic tour-de-force and voted - in numerous polls - as the best film from the 1980's. Italian-American, middleweight boxer, Jake LaMotta (Robert DeNiro) has inner demons and is prone to obsessive rage and sexual jealousy which threatens to destroy his relationship with his wife Vickie (Cathy Moriarty) and brother/trainer Joey (Joe Pesci). In the ring, he a prizewinner but it's outside it, that he seems to lose everything. On the surface, Raging Bull could be seen as just another boxing biopic, much like Denzel Washington's portrayal of Ruben "Hurricane" Carter, Russell Crowe's Jim "The Cinderella Man" Braddock or Will Smith's Muhammad "Ali". Scorsese and DeNiro's vision is an altogether different one, though. It's not their intention to glamourise LaMotta or deliver a conventional film about pugilism. Their intentions lie in exposing the man beyond the ring - where his real fights took place. The biggest opponent for "The Bronx Bull" was actually himself and his struggle with a raging, psychosexual insecurity and his propensity for self-destruction. It's here that DeNiro fully takes centre stage in what is, unequivocally, his finest moment (and that's saying something) throughout an illustrious career of exceptionally strong performances. His transformation is near miraculous; while researching and preparing for the role, De Niro actually spent the entire shoot with LaMotta so he could portray him accurately and went through extensive physical training, entering into three genuine Brooklyn boxing matches and winning two of them. According to La Motta, De Niro had the ability to be a professional fighter and that he would have been happy to have been his manager and trainer. Following this, production was stopped for two months so DeNiro could pile on 60 pounds to portray LaMotta in his older years. His commitment to the role (and project) has now become legendary and highly respected amongst his peers. Quite simply, DeNiro's smouldering (and deservedly Oscar winning) display is an absolute masterclass in the profession. Scorsese's skills manifest in his operatic approach; he's less interested in cranking up the tension or theatrics of the bouts and more focused on the punishing brutality of the sport. He employs the use of flashbulbs, and several different sound effects - like smashing glass and squelching watermelons - to achieve an overall crunching effectiveness. He's aided immeasurably by Thelma Schoonmaker's sharp editing technique and Michael Chapman's sublime, monochrome, cinematography which serves the film as a whole in it's mood and noir-ish atmosphere. If the bouts in the ring are claustrophobic then the same could be said for the 'quieter' moments outside it; LaMotta's personal life is uncomfortably scrutinised in his abuse towards his wife Vickie and brother Joey. There are very personal scenes of fraught and jealous conversations that are unbearably tense, and fully depict how much of a brute this man really was. It's testament to the commitment of the entire cast and crew that this highly unappealing individual can make such compelling viewing. A truly searing, cinematic classic, that addresses the unflinching, animalistic, behaviour of a man in need of absolution and redemption. It also happens to possess one of cinema's most breathtaking and riveting performances. On this evidence, there's no question that Robert DeNiro is a master of his craft and it's arguably Martin Scorsese's finest work as well. Mark Walker
Mark Walker
Super Reviewer
½
Last year I set out to watch the AFI top 100 greatest movies of all time. I've made it through quite a bit of it, but I had skipped this one over for some reason. It's just one of those movies, that I'd always wanted to watch, just never made the effort to watch it. Finally sat down and watched, and as number 4 on the list, I expected an amazing movie. But I gotta be honest, I was very underwhelmed. I generally love De Niro movies, and Martin Scorsese movies, but this just didn't work for me as much as I thought it would. The performances are all great, and De Niro absolutely deserved the Oscar. But the movie is slow, and watching it seems more like an "important" movie than an "entertaining" one. Like, the type of movie you see once and that's all you need. Made more for the "art" of the movie, than the "popcorn" value, I guess. It's the story of Jack La Motta a famous middleweight boxer in the 40's and 50's and chronicles his career from the ring to hosting a night club in retirement, and all the ups and downs of his personal life in between. The boxing scenes are great, and I really loved the Sugar Ray Robinson scenes, but when the movie veered away from the ring, it just stalled for me. I may try to watch this again sometime, and hopefully my opinion changes.
Everett Johnson
Super Reviewer
Raging Bull Quotes
| | |
| --- | --- |
| Jake LaMotta: | Put my robe on right. |
| | |
| --- | --- |
| Jake LaMotta: | You never got me down, Ray! |
| | |
| --- | --- |
| Jake LaMotta: | I bought it for my father. I bought the building. |
| Vickie LaMotta: | Oh, yeah? From fightin'? |
| Jake LaMotta: | Yeah. What else? |
| | |
| --- | --- |
| Jake LaMotta: | I'm the best, I can take it more than anybody |
| Jake LaMotta: | I'm the best, I can take it more than anybody. |