Raiders of the Lost Ark
(1981)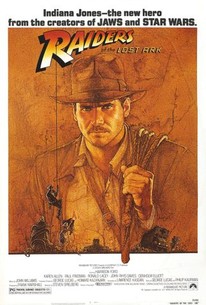 TOMATOMETER
AUDIENCE SCORE
Critic Consensus: Featuring bravura set pieces, sly humor, and white-knuckle action, Raiders of the Lost Ark is one of the most consummately entertaining adventure pictures of all time.
Raiders of the Lost Ark Videos
Raiders of the Lost Ark Photos
Movie Info
Indiana Jones (Harrison Ford) is no ordinary archeologist. When we first see him, he is somewhere in the Peruvian jungle in 1936, running a booby-trapped gauntlet (complete with an over-sized rolling boulder) to fetch a solid-gold idol. He loses this artifact to his chief rival, a French archeologist named Belloq (Paul Freeman), who then prepares to kill our hero. In the first of many serial-like escapes, Indy eludes Belloq by hopping into a convenient plane. So, then: is Indiana Jones afraid of anything? Yes, snakes. The next time we see Jones, he's a soft-spoken, bespectacled professor. He is then summoned from his ivy-covered environs by Marcus Brody (Denholm Elliott) to find the long-lost Ark of the Covenant. The Nazis, it seems, are already searching for the Ark, which the mystical-minded Hitler hopes to use to make his stormtroopers invincible. But to find the Ark, Indy must first secure a medallion kept under the protection of Indy's old friend Abner Ravenwood, whose daughter, Marion (Karen Allen), evidently has a "history" with Jones. Whatever their personal differences, Indy and Marion become partners in one action-packed adventure after another, ranging from wandering the snake pits of the Well of Souls to surviving the pyrotechnic unearthing of the sacred Ark. A joint project of Hollywood prodigies George Lucas and Steven Spielberg, with a script co-written by Lawrence Kasdan and Philip Kaufman, among others, Raiders of the Lost Ark is not so much a movie as a 115-minute thrill ride. Costing 22 million dollars (nearly three times the original estimate), Raiders of the Lost Ark reaped 200 million dollars during its first run. It was followed by Indiana Jones and the Temple of Doom (1985) and Indiana Jones and the Last Crusade (1989), as well as a short-lived TV-series "prequel." ~ Hal Erickson, Rovi
News & Interviews for Raiders of the Lost Ark
Critic Reviews for Raiders of the Lost Ark
Audience Reviews for Raiders of the Lost Ark
½
It is almost impossible not to be thrilled by this hugely entertaining modern classic that boasts a delicious sense of humor, a charismatic protagonist (Harrison Ford is awesome as always) and a lot of fast-paced action, with each scene more exciting than the one before.
Carlos Magalhães
Super Reviewer
In 1975, George Lucas and Philip Kaufman came up with the concept of a film that would pay homage to the action serials of the 1930's and 40's like "The Adventures of Captain Marvel" or "Dick Tracy" - you know, the one's were they'd always end in a cliffhanger? However, this idea was put on hold so that Lucas could concentrate on "Star Wars" in 1977. After the surprise success of that film, Lucas then embarked on the proposal and enlisted the help of Lawrence Kasdan on the screenplay and gave his friend Steven Spielberg the chance to direct and prove the studio bosses wrong after the star-studded, monumental failure of his World War II comedy "1941", a couple of years previously. This meeting of minds resulted in "Raiders of the Lost Ark" and has since became one of cinema's most revered and iconic film's. Dr. Indiana Jones (Harrison Ford) is a renowned archeologist who is hired by the U.S. Government to find the Ark of the Covenant - a chest the Hebrews carried around containing the Ten Commandments. Indy is not the only one after the Ark, though, as he soon crosses paths with Hitler's Nazi's, also intent in getting their hands on the artefact. Classic Adventure film of the very highest caliber. In fact, it's hard to argue that this isn't the one to beat in terms of sheer indulgence and escapist entertainment. I grew up with Indiana Jones and there are very few characters or films who have had such a direct or major influence on my love for the cinematic art-form. It's difficult to find the words for Raiders that haven't already been said. Quite simply, it's a true action spectacle that's unparalleled and stands as one of Steven Spielberg's finest moments. He's a director that's, rightly, regarded as one of Hollywood finest filmmakers and you don't have to look much further than this film to see why. With one hair raising set-piece after another, Spielberg keeps the action relentless and fully realises a romanticised pastiche of the aforementioned serials' clichéd plot elements and devices. Of course, what aides immeasurably in bringing it all together, is a perfectly committed and physical performance from the leading man. Contrary to popular belief, Harrison Ford was the first choice for Indy. Well... it was in Spielberg's eyes, anyway. It was Lucas who wanted to cast someone else as he wanted to create a little distance from Ford having already worked with him on "American Graffiti" and "Star Wars" and as common knowledge would have it, Lucas preferred Tom Selleck. Unfortunately for him, though, he was already committed to the television series "Magnum P.I." which resulted in Ford securing, what would become, his signature role. I think it's fair to say that Ford has never exactly been praised for his acting range. Sure, he's certainly able to deliver some wonderful work; his powerful turn in "The Mosquito Coast" and his Oscar nominated performance in "Witness" are proof of this but his portrayal of Indiana Jones is absolutely spot on. He captures the requisite charm, wit and smarts to win you over. He exaggerates his facial expressions to the point of parody and completely sweeps the audience up in his heroic adventures. Even though he's the hero of the story, Ford never let's you think for a second that he's infallible or indestructible. Every scrape, punch or altercation still feels like it could be Indy's last and that's a fabulous achievement when you pretty much get the gist of the film's formula or structure. Considered one of the best films ever made and, to this day, remains one of the highest grossing. It went on to win four Academy Awards out of nine nominations and these accolades alone speak for themselves. I, for one, couldn't argue with any of them. Mark Walker
Mark Walker
Super Reviewer
Swashbucklers were deeply unfashionable at the time when Raiders was made, and it took the talents of the then new golden boy of Hollywood to breathe new life into the genre. With a bespectacled alter ego who is a million miles away from his action man persona like an archaeological Clark Kent, Indiana Jones became an iconic action figure who was often knocked on his backside, played fair only when it suited him and was far more interested than his treasure than getting the girl. Sound familiar? Yes without Raiders, Captain Jack would probably never have existed. Like POTC, this film takes its cues from the golden age of the Hollywood swashbuckler, to the point where Ronald Lacey's sinister yet effeminate secret policeman and Paul Freeman's amoral gentleman rogue could easily have been mistaken for Peter Lorre and Sidney Greenstreet respectively. The action is as superbly handled by Spielberg as always, the truck chase scene being one of the all time great stunt sequences and the wholly unexpected finale that blends religious mythology with gothic horror is fantastic. A perfectly judged combination of slam bang set pieces and humour that makes for flawless family entertainment.
Raiders of the Lost Ark Quotes
| | |
| --- | --- |
| Sallah: | Indy why does the flood move? |
| Indiana Jones: | give me your torch |
| Indiana Jones: | Snakes. Why'd it have to be snakes? |
| Sallah: | Asp very dangerous you go first Indy. |
| | |
| --- | --- |
| Indiana Jones: | Balloq's medallion only had writing on one side? You sure about that? |
| Sallah: | Positive |
| Indiana Jones: | Balloq's staff is too long they are digging in the wrong place |
| Sallah: | they are digging in the wrong place "I am the monarch of the sea I am the ruler of the coup....." |
| Sallah: | Bad Dates (points to dead monkey) |
| | |
| --- | --- |
| Belloq: | You and I are very much alike. Archeology is our religion, yet we have both fallen from the pure faith. Our methods have not differed as much as you pretend. I am but a shadowy reflection of you. It would take only a nudge to make you like me. To push you out of the light. |