Rain Man
(1988)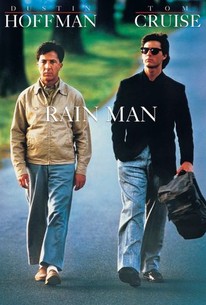 TOMATOMETER
AUDIENCE SCORE
Critic Consensus: This road-trip movie about an autistic savant and his callow brother is far from seamless, but Barry Levinson's direction is impressive, and strong performances from Tom Cruise and Dustin Hoffman add to its appeal.
Movie Info
Self-centered, avaricious Californian Charlie Babbitt (Tom Cruise) is informed that his long-estranged father has died. Expecting at least a portion of the elder Babbitt's $3 million estate, Charlie learns that all he's inherited is his dad's prize roses and a 1949 Buick Roadmaster. Discovering that the $3 million is being held in trust for an unidentified party, Charlie heads to his home town of Cincinnati to ascertain who that party is. It turns out that the beneficiary is Raymond Babbitt (Dustin Hoffman), the autistic-savant older brother that Charlie never knew he had. Able to memorize reams of trivia and add, subtract, multiply, and divide without a second's hesitation, Raymond is otherwise incapable of functioning as a normal human being. Aghast that Raymond is to receive his father's entire legacy, Charlie tries to cut a deal with Raymond's guardian. When this fails, Charlie "borrows" Raymond from the institution where he lives, hoping to use his brother as leverage to claim half the fortune. During their subsequent cross-country odyssey, Charlie is forced to accommodate Raymond's various autistic idiosyncracies, not the least of which is his insistence on adhering to a rigid daily schedule: he must, for example, watch People's Court and Jeopardy every day at the same time, no matter what. On hitting Las Vegas, Charlie hopes to harness Raymond's finely-honed mathematical skills to win big at the gaming tables; but this exploitation of his brother's affliction compels Charlie to reassess his own values, or lack thereof. A longtime pet project of star Dustin Hoffman, Rain Man was turned down by several high-profile directors before Barry Levinson took on the challenge of bringing Ronald Bass' screenplay to fruition (Levinson also appears in the film as a psychiatrist). All three men won Oscars, and the movie won Best Picture.
Critic Reviews for Rain Man
Audience Reviews for Rain Man
One of the better family films, w/o the schmaltz oozing around every single corner, and firmly grounded by three stellar turns in the leads, well written and very well directed, this work asks tough questions of everyone involved, including the viewers, but mainly: how to love someone who is not lovable? What about not even likable? Interestingly, the dynamic chosen is that the brother here who is apparently unlikable is actually the nicer one, and vice versa. Recommended.
Kevin M. Williams
Super Reviewer
Charlie Babbitt's transformation is convincing, Dustin Hoffman is excellent and the chemistry between the brothers is touching. The art direction and music are hella dated but the movie is otherwise timeless.
Letitia Lew
Super Reviewer
I must have been about ten or eleven when Rain Man was released and I remember enough about this time that it was seemingly heralded as a modern classic. The fact that it went on to win several oscars - including Best Picture - would further back this up. In hindsight, it's not the classic that its proclaimed to be but still remains a solid human drama. Charlie Babbitt (Tom Cruise) is a self-centred car salesman who discovers that his recently deceased father has left his fortune to his older, autistic brother Raymond (Dustin Hoffman) - that he didn't know he had. In a bid to get his hands on the money, he kidnaps his brother but rather than it turning into a money making scheme, Charlie finds himself bonding with Raymond on their cross-country journey. On the surface, Rain Man comes off as a film about family ties, responsibilities and an exploration of learning disabilities. This is true to a great extent but essentially it's a road movie with two mismatched characters and actors. Hoffman delivers another masterful performance and one that gained him his second Best Actor Oscar after "Kramer Vs Kramer" in 1979. There's a real sensitivity to his performance, which in turn, brings a lot of humour. The humour can sometimes come across as unintentional but that's all the more credit to Hoffman's abilities. As for Cruise, he's all cocksure arrogance - like most of his performances throughout the 80's - but he's perfectly fitting and delivers one of the more grounded and mature performances of his career. He plays off Hoffman brilliantly and after playing alongside Paul Newman in "The Color Of Money" two years previously, this marked the second time that Cruise held his own against two of the screen greats - the two of them also on Oscar winning form at the time. Behind the camera, Levinson does an admirable job but his main strengths lie in capturing the subtleties of the performances. Anything else other than that is generic filmmaking. That's not to say that it's poor. It far from that, but I wonder whether it was deserving of a Best Director Oscar. Other candidates from that year included Martin Scorsese for "The Last Temptation of Christ" and Alan Parker for "Mississippi Burning". At least two, that could arguably have taken the award. However, this is the type of material that the Academy laps up; it's a difficult subject in highlighting the complexities of autism and although it's one of very few film's to tackle it, it doesn't provide any answers and doesn't probe as well as it should. Maybe the lack of probing is exactly the point? Autistic savants can't be understood and it confirms that through Cruise's frustrated character. Either way, I found that it became a little contrived and formulaic. This is a small gripe though, as the journey that these two go on is filled with humour and pathos and manages to be both touching and emotionally uplifting. A thoughtful and affecting story that benefits from exemplary performances and great chemistry from the two leads.
Mark Walker
Super Reviewer
Rain Man Quotes
| | |
| --- | --- |
| Charlie Babbitt: | Did you fart? |
| Raymond Babbitt: | Yes I did. |
| Charlie Babbitt: | How can you stand that? |
| Raymond Babbitt: | No I don't mind it. |
| | |
| --- | --- |
| Raymond Babbitt: | Kmart sucks |
| Raymond Babbitt: | Kmart sucks. |
| | |
| --- | --- |
| Charlie Babbitt: | I just realized I'm not pissed off anymore. My father cut me out of his will. You probably knew he tried to contact me over the years. I never called him back. I was a prick. If he was my son and didn't return my calls, I'd have written him out. But it's not about the money anymore. You know, I just don't understand. Why didn't he tell me I had a brother? Why didn't anyone ever tell me that I had a brother? Because it'd have been nice to know him for more than just the past six days. |