Rainbow Brite and the Star Stealer
(1985)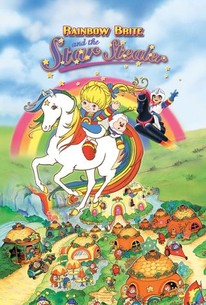 Rainbow Brite and the Star Stealer Photos
Movie Info
This routine small tots' animated feature is about a young girl named Rainbow Brite who brings color to the universe. She is forced to do battle with the henchmen of a wicked princess determined to plunge everything into a colorless darkness. Before the princess can carry out her plan, Rainbow joins up with the warrior Krys and some special horses to outsmart and outfight the anti-technicolor faction.
Critic Reviews for Rainbow Brite and the Star Stealer
Audience Reviews for Rainbow Brite and the Star Stealer
Yes, it's a cheesy kids cartoon-based movie from the 80s, but it actually was really cool, the story is good and so is the animation. I enjoyed it, and I think kids today will still like it too.
Even in the world of merchandise tie-in animated movies, this Rainbow Brite outing is pretty terrible. One of the main points of the film revolves around the Big Bad tying a rope around a planet and towing it to her home with a spaceship. Yeah, okay. Then there are the unnecessary comic asides with two bumbling villains that don't work on any level. Over on the editing and scripting side, the action constantly shifts away from Rainbow Brite and her mission just to keep the ancillary characters fresh in the minds of the audience. Those minor scenes, though, last a whopping 30 to 45 seconds, never providing enough time for those sequences to do anything of importance. The end result is a film that goes beyond cheesy to so sugary sweet I wanted to get my teeth checked after watching it. Even other blatant money grabs of the decade like the Transformers and G.I. Joe movies included risk and, well, real world stakes. There's nothing like that here, if you include winter not being able to go away...and the people of Earth literally giving up because of the snow and grayness. Really?
Jason Vargo
Super Reviewer
Rainbow Brite and the Star Stealer Quotes
There are no approved quotes yet for this movie.