Ralph Breaks the Internet
(2018)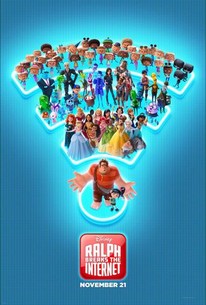 TOMATOMETER
AUDIENCE SCORE
Critic Consensus: Ralph Breaks the Internet levels up on its predecessor with a funny, heartwarming sequel that expands its colorful universe while focusing on core characters and relationships.
Ralph Breaks the Internet Videos
Ralph Breaks the Internet Photos
Movie Info
In "Ralph Breaks the Internet," video-game bad guy Ralph (voice of John C. Reilly) and best friend Vanellope von Schweetz (voice of Sarah Silverman) leave the comforts of Litwak's arcade in an attempt to save her game, Sugar Rush. Their quest takes them to the vast, uncharted world of the internet where they rely on the citizens of the internet--the Netizens--to help navigate their way. Lending a virtual hand are Yesss (voice of Taraji P. Henson), the head algorithm and the heart and soul of the trend-making site "BuzzzTube," and Shank (voice of Gal Gadot), a tough-as-nails driver from a gritty online auto-racing game called Slaughter Race, a place Vanellope wholeheartedly embraces--so much so that Ralph worries he may lose the only friend he's ever had.
News & Interviews for Ralph Breaks the Internet
Critic Reviews for Ralph Breaks the Internet
Audience Reviews for Ralph Breaks the Internet
½
As a proud product of 2018, it is safe to say that this movie will soon be dated and half of its jokes will be lost for a new generation, but despite that (and the fact that the climax is a bit messy), it can be quite entertaining with its concept and design of an internet world.
Carlos Magalhães
Super Reviewer
There's a story about friendship here that's the gut of the thing, and it'll do nicely, thank you very much, even drawing some tears effectively near the end, but this animated gem is about stoking the internet meme age. Practically every shot demands that one stop the action so as to focus on whatever visual gag may be in the background. That'll probably eat of loads of somebody's time. And the Disney princesses portion is the gag reel highlight.
Kevin M. Williams
Super Reviewer
½
Ralph (voiced by John C. Reilly) and his best pal Vanellope (voiced by Sarah Silverman) must venture out of their arcade home once Vanellope's game gets broken. She's in danger of having her racing game shelved for good unless they can find a new steering wheel controller. Thanks to the installation of wi-fi, Ralph and Vanellope hop along the information super highway and visit an online metropolis bursting with life and possibility. It's a world of advanced games, races, and interactivity and Vanellope might not want to go back to her old world, much to the chagrin of Ralph. Fear not, this is not Disney's rehash of The Emoji Movie, a slapdash gallivant through Internet culture, apps, and the most famous online brands. The first forty minutes or so of Ralph Breaks the Internet are silly and visually appealing as our familiar characters expand their horizons to the world of online gaming. Much like the first film, there are a lot of rules and mechanics to establish as a foundation before things can get too complicated. The first Wreck-It Ralph was a bit more structured and clean in this aspect whereas the sequel gets to feel a tad episodic. The Grand Theft Auto/Twisted Metal world of street racing provides a splendid contrast and plenty of satirical touches. It's still amusing as Ralph and Vanellope discover the new worlds and we see how the filmmakers choose to depict their inner workings, like a concierge working a search bar or spammers as pushy street promoters. Although it also leads to some questions, like this world has Google but no YouTube, instead combining YouTube and Buzzfeed into one entity where hearts count as upvotes/likes. Is there a reason Disney might not want to have steered children to YouTube? Or is there something more corporate about promoting a rival media company when Disney is planning their own online streaming magical kingdom? It's an entertaining beginning but I started to get worried about whether or not this was the extent of what we were going to get with a Ralph sequel. Is this really all going to be about raising money to buy an arcade controller wheel? It's about the forty-five minute mark where the film takes a welcomed turn, where it focuses far more on the character relationships between Ralph and Vanellope, and that's when the film deepens into something much more special. The antics beforehand were colorful and amusing but too episodic, but once Ralph and Vanellope are split apart, now those same imaginative antics are used in the service of developing characters and exploring their inner conflicts. It's like the movie went next level with its potential. Vannelope's excursion into the Disney Corporate Realm leads to fun cameos (Groot), and newly sad cameos (Stan Lee, R.I.P.), but the meta interaction with the Disney princesses is a hoot. The film cleverly ribs the Disney traditions of old but, and this is the key part, finds ways to relate it back to character conflicts and assumptions. The Disney princesses lead Vanellope into a new soul-searching direction, which leads to an inspired musical number that's filled with silly, ironic non-sequitors and a declaration of purpose, a wonderful melding of the Disney storytelling of old and new. From here, the movie gets better and better as Ralph goes to greater lengths to sabotage Vanellope's plans to leave him for a new game. The final act grows from this misguided attempt to hold onto selfish needs and rebuke change, and it culminates in a climax that is built around the characters and what they're willing to give up for one another. For a movie that starts with silly gags about eBay and Twitter, it grows into something that genuinely could bring some tears. The overall message, that growing apart is okay and can be healthy, that friendships will inevitably change over time and to not stand in the way of change, is a lesson I was not anticipating from a "family film." I was expecting Ralph Breaks the Internet to mostly cover the dark side of the Internet, in an albeit family-friendly manner, about the casual cruelty and lack of empathy that is magnified from the perceived anonymity. The movie does cover some of this material briefly when Ralph stumbles into a hall of mean-spirited comments ("First rule of the Internet: never read the comments"). I was expecting a more simplified and pat lesson about the evils of the Internet, but instead the filmmakers deliver something far more applicable and important for young people. They could have gone for easy life lessons about online behavior, and instead Ralph Breaks the Internet goes above and beyond to make its message more personal and sympathetic. Reilly (Kong: Skull Island) provides a lot of heart to his doofus; enough to keep him grounded even when his character starts making bad decisions to keep the status quo. Silverman (Battle of the Sexes) has a harder time just because she's asked to keep her voice at a childlike level, which can be grating at certain points. She is still able to convey an array of emotions. The relationship between Ralph and Vanellope is key to the series being more than the sum of its parts, and both actors help this through their sometimes warm, sometimes bickering interactions. The biggest new addition is Gal Gadot (Wonder Woman) as Shank, the leader of a gang of car thieves. She's a tough lady that takes an immediate shine to the attitude and gusto of Vanellope. The character and her world are more welcomed than Gadot as a vocal actor. She's fairly limited in range. I did enjoy that they specifically animated Jason Mantzoukas (Netflix's Big Mouth) as a nerdy question-asker and Oscar-nominee June Squibb (Nebraska) for five seconds each. The Wreck-It Ralph franchise is another stellar plank in a growing armada of Disney animated franchises that could challenge Pixar for supremacy. Walking away from Ralph Breaks the Internet, I had to think it over but I concluded that I was more emotionally fulfilled and pleased than with Pixar's Incredibles 2. I'm not going to argue that Ralph is the better of the two movies when it comes to storytelling, visual inventiveness, or action, but I was happier and more satisfied leaving Ralph. This is an imaginative, colorful, cheerful, and heartfelt movie with a valuable message and the understanding of narrative structure to see it through. I'm now thinking about a potential third Ralph movie (the director says there won't be another, but let's see what Disney says after those box-office grosses come in). We've gone to the realm of online gaming, so what's next? Maybe Ralph's game gets transferred to a collector's home out of the country, like in Japan, and then it's about Japanese gaming culture. Or my pal Ben Bailey suggested Ralph's game gets relocated into a movie theater, one of the few places arcade machines are still present, and it's Ralph in the world of the movies. The fact that I'm pitching sequels says something about the franchise's potential and its accomplishment. Ralph Breaks the Internet is a worthy sequel with of equal parts compassion and wit. Nate's Grade: A-
Nate Zoebl
Super Reviewer
Ralph Breaks the Internet Quotes
There are no approved quotes yet for this movie.