Rambo III
(1988)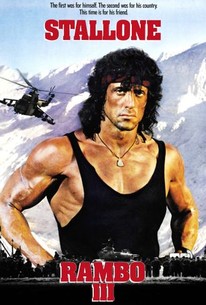 TOMATOMETER
AUDIENCE SCORE
Critic Consensus: Rambo III finds its justice-dispensing hero far from the thoughtful drama that marked the franchise's beginning -- and just as far from quality action thriller entertainment.
Movie Info
When Vietnam vet John Rambo discovers that his former commander is being held captive in Afghanistan, he undertakes a personal rescue mission. This big-budget action drama soon finds Rambo returning to his vigilante ways, single-handedly killing countless enemies during the course of his quest.
News & Interviews for Rambo III
Critic Reviews for Rambo III
Audience Reviews for Rambo III
½
At first it was all about survival and misunderstanding, then it became about trying to help his own. Now, with this one, things get personal again...and all rather nutty and silly. Much like part 2, this one, while having a story, and a bit to do with character, is more about the over the top action than anything. That's all well and good on its own terms, but, with few exceptions, I feel that intense action is usually more effective if you actually care about the characters (truly), and they're really developed. Rmabo goes on a mission to rescue his mentor after he's MIA following a disastrous mission to aid Afghani rebels against invading Soviets. Yeah, this one was sorta timely, but just dealt with a potentially wonderful situation in the wrong way. Plus, it cracks me up how this movie tells the story of an event that would inadvertently come back to bite the U.S. in the ass about 13 years later. If all you want is primarily a big focus on ridiculously over the top action and violence, then go for it. I'd prefer a bit more substance, though will admit that I wasn't bored with this, just not as involved as I should have been.
Chris Weber
Super Reviewer
It may not be a great film, but it definitely knows exactly what was wrong with the first sequel. The second film was all about the action and getting John Rambo back on the screen. This film may seem like the exact same thing, but there is a much stronger story here and a reason for him to want to go back. I really had fun watching this film, but what was in my mind throughout my entire viewing experience, is that the script will not live up to the original, nor will any other aspect. Stallone still kicks ass in many ways, but it's not enough to create a memorable movie. "Rambo 3" is good at best!
Rambo III is a change of pace for the character of John Rambo. Instead of taking the fight in an urban environment or the jungles of Vietnam, Rambo brings his fight to the deserts of Afghanistan. As his former C.O Col Trautman gets captured by Russian forces fighting clans in Afghnistan. Rambo stops at nothing to save his former C.O. Of all the Rambo films, Rambo III is one of my personal favorites along with the first. Rambo III is a favorite because as I've said, Rambo has a different battlefield to wage war on. The change of atmosphere makes the difference and is really a breath of fresh air. As with the first two, Rambo III is a well paced action film that delivers on the action. The way you enjoy a Rambo film is by seeing it as a popcorn flick. It may not be everyone's cup of tea, but for action buffs looking for the ultimate adrenaline rush, you don't need to look any further than this film. With the Rambo films, I view them as flawless action films because everyone of them brings the necessary ingredients to create a tense, bold and thrilling action film that will entertain you and make you want more. Rambo III was at the time of its release the most violent of three and the most violent film released as well. However it was surpasssed by Rambo IV. Fans will most likely welcome Rambo's cgane of scenery. Rambo III posesses all the usually elements you'd expect from a Rambo film. An enjoyable action film, Rambo III is a perfect example of a well done action film thats desined to deliver ultimate thrills. This is a fun film with plenty of action. Though the acting is not great by any means, what makes Rambo films watchable is the adrenaline, pulse pounding thrills as displayed so well in this awesome franchise.
Rambo III Quotes
| | |
| --- | --- |
| Masoud: | Somewhere in war, there is supposed to be honor. |
| | |
| --- | --- |
| Hamid: | What's that? |
| John Rambo: | It's blue light. |
| Hamid: | What does it do? |
| John Rambo: | It turns blue. |
| | |
| --- | --- |
| Colonel Zaysen: | Drop your weapons! Now! You have no chance of escape! Come forward! I wish to take you back alive! This is your last warning! The choice is yours! |
| Col. Trautman: | What do you say John? |
| John Rambo: | Fuck 'em! |
| | |
| --- | --- |
| Moussa: | You do not look like men Griggs sent before. You not look like you are with military. |
| John Rambo: | I'm not. |