Rampart
(2012)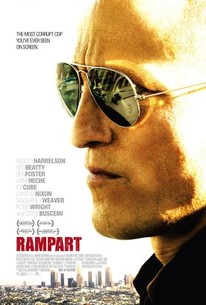 TOMATOMETER
AUDIENCE SCORE
Critic Consensus: Rampart sends viewers plummeting into a nihilistic hell of its protagonist's creation, yet Woody Harrelson's performance in the central role is too magnetic to dismiss.
Movie Info
Los Angeles, 1999 - Officer Dave Brown (Harrelson) is a Vietnam vet and a Rampart Precinct cop, dedicated to doing "the people's dirty work" and asserting his own code of justice, often blurring the lines between right and wrong to maintain his action-hero state of mind. When he gets caught on tape beating a suspect, he finds himself in a personal and emotional downward spiral as the consequences of his past sins and his refusal to change his ways in light of a department-wide corruption scandal seal his fate. -- (C) Official Site
News & Interviews for Rampart
Critic Reviews for Rampart
Audience Reviews for Rampart
Captivating drama, Rampart is a surprisingly gripping film about a corrupt cop played by Woody Harrelson in a well rounded performance. The film's story is smart, tense and is entertaining due to a strong performance by its lead actor. What I enjoyed about the film was that it was a tense piece of drama, a film that managed to be a gripping, well paced picture that told a riveting story and is elevated by some strong performances. I didn't expect much going into this film, and I must admit, I kind of avoided it for awhile, but I'm glad I did. Directed by the same director who helped the terrific drama The Messenger, Rampart gives you an unflinching portrait of a cop that is corrupt and abuses his oath. Harrelson is perfect for the part, and he commands each scene that he's in. The story is well constructed and is perfectly paced in order to create a rousing sense of tension, which is ever present in the film. This is a fine drama thriller, one that ranks among the most memorable ones in the last few years, and like I said, it's a film that is entertaining and captivating in the way it handles its story. This is a film that is well worth your time if you want a well executed drama that boasts great performances, terrific storytelling and exceptional direction. Rampart is an incredible drama and it's a film that is thoroughly engaging and is a finely made picture that you won't forget anytime soon. The film's strength lies in a solid and unforgettable performance by Woody Harrelson and it has a finely written script that has never a dull moment.
'Rampart'. A fine lesson in self-destruction that meandered too often between some nice uncomfortable moments.
Another Bad Cop Movie played by no better actor then Woody Harrelso, don't think he had to act to hard to fit this role. Nothing outstanding here, really a dissapointment. 3 Stars 8-3-12
Bruce Bruce
Super Reviewer
Rampart Quotes
| | |
| --- | --- |
| Catherine: | David Douglas Brown, you are nothing but a misanthrope. |
| | |
| --- | --- |
| Dave Brown: | Your bun boy honked a Vice Cop at the Pink Parrot last night. He's got a Parole Hold so no bail. Lorazepam and Phenobarb and it all goes away. |
| | |
| --- | --- |
| Dave Brown: | Up this time (Talking to pharmacist). And something to make it hard (goofy smile). |
| Dave Brown: | Up this time. [talking to pharmacist] And something to make it hard. [goofy smile] |
| | |
| --- | --- |
| Dave Brown: | but while you're playing gum shoe, bear in mind that I am not a racist. Fact is, I have all people equally. And if it helps, I've slept with some of your people. you want to be mad at someone, try Edgar J. Hoover. He was a racist. Or the Founding Fathers, all slave owners. Me, I'm just doing my job. |
| Dave Brown: | But while you're playing gum shoe, bear in mind that I am not a racist. Fact is, I have all people equally. And if it helps, I've slept with some of your people. you want to be mad at someone, try Edgar J. Hoover. He was a racist. Or the Founding Fathers, all slave owners. Me, I'm just doing my job. |