Rampo Noir (Rampo jigoku)
(2005)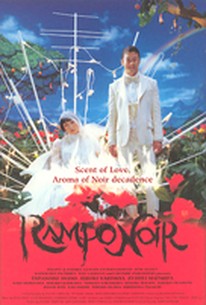 AUDIENCE SCORE
Critic Consensus: No consensus yet.
Movie Info
Directors Suguru Takeuchi, Akio Jissoji, Hisayasu Sato, and Atsushi Kaneko team to adapt four stories by acclaimed early-20th Century Japanese mystery novelist Taro Hirai, who penned his suspenseful tales under the telling pseudonym Edogawa Ranpo. Maverick Japanese indie star Tadanoby Asano stars in all four segments of the macabre omnibus. Takeuchi's "Mars' Canal," sets things into motion as a naked man (Asano) wandering through a desolate alien landscape recounts a sexual encounter that quickly took a violent turn. The second segment, directed by Jissoji and entitled "Mirror Hell," finds detective Kogoro Akechi (Asano) investigating the mysterious deaths of two young women. Upon discovering that mirrors crafted by malevolently handsome stationary shop master Toru Itsuki (Hiroki Narimiya) and that the mirror-maker knew both of the victims intimately, the investigation takes an unsettling turn that leads the detective to believe the occult may be involved. Director Sato's "Caterpillar," which comprises the third segment of the film, follows a quadruple amputee war veteran (Nao Omori) who returns from the battlefield only to face sadistic abuse at the hands of his nubile but resentful wife (Yukiko Okamoto). As a local artist (Ryuhei Matsuda) begins to take a morbid interest in the couple's twisted relationship, Detective Akechi (Asano) does his best to crack the strange case. Kaneko's "Crawling Bugs" rounds out the frightful quartet of tales by detailing the psychotic coupling between a well-known actress (Tamaki Ogawa) and her introverted driver (Asano), who longs to satisfy the sultry starlet in the same manner as her rough-handed lover (again Asano). ~ Jason Buchanan, Rovi
Critic Reviews for Rampo Noir (Rampo jigoku)
Audience Reviews for Rampo Noir (Rampo jigoku)
½
Horror Not to Miss List Commentary:
Ramp Noir is comprised of four short pieces all based upon the writings of valued horror writer Edogawa Rampo. The first is the most art-house, avant-garde, lacking sound and existing within a world of its own colors and kineticism. The next is an astoundingly creepy detective horror with a superb mythical-meets post-modern/surreal ending. The third is one of the most beautiful disgusting movies you'll ever see, with much astute - no, plain genius - subtext. The final piece feels like a good end, as it has the least ambiguous conclusion and the most gratuitous beautifully rendered decay and madness.
Everyone should see this so that they can know what proper modern horror film is supposed to be.

"So Fucked Up" highlight:
wife simultaneously copulates with and tortures her crippled mute husband, who sort of likes it
_kelly .King
Super Reviewer
Highly watchable, and at times disturbing, Edogawa Rampo anthology film. All the stories were great, in fact I can't think of anything by Rampo I've read or any movie adaptation I've seen that I haven't really enjoyed (yes, that includes Blind Beast vs. Killer Dwarf). This one is surreal, dark, mysterious with fascinating and disturbed characters doing terrible things. Well worth searching for. Now why the hell have I not seen Blind Beast yet?
Christopher Brown
Super Reviewer
I enjoyed this film, it's one of the more unique horror films I've seen come out of japan for a while. That being said, this film is not easily accessible, I know most people who watch it will not like it and appreciate its unconventional approach to the horror genre. Like I said this film is very unique and disturbing, it rarely used violence to get its point across and when it DID use violence it's because it was needed, there are no pointless deaths here. Personally my favorite segment is the last one, it deals with obsession and paranoia. Tadanobu Asano pulls this part off perfectly, making you believe in his paranoia and obsession. So overall it's a great horror movie that certainly inspires me to pick up Taro Hirai's work. Watch if you have an open mind and appreciation for well-crafted horror films.
Jesse Ortega
Super Reviewer
Rampo Noir (Rampo jigoku) Quotes
There are no approved quotes yet for this movie.