Rancho Notorious
(1952)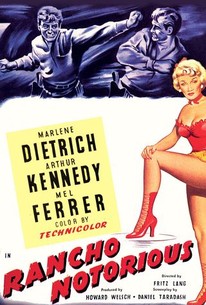 Movie Info
The original title for Rancho Notorious was Chuck-a-Luck, which is also the title of the soundtrack ballad (written by Ken Darby) which unifies the plotline, à la High Noon. Frontiersman Vern Haskell (Arthur Kennedy) wanders throughout the West in search of the man who robbed and murdered his fiancée. He is told that he'll probably find the culprits at Chuck-a-Luck, a combination horse ranch and criminal hideout overseen by saloon chanteuse Altar Keane (Marlene Dietrich). To gain entrance to Chuck-a-Luck, Haskell poses as an escaped prisoner. Keane warns him that the ranch has only one rule: "Don't ask questions." Still, he has ways of finding things out. Haskell is compelled to keep up his charade when the dirty denizens of Chuck-a-Luck plan a big bank holdup, but this has the result of exposing the killer of his girl. Director Fritz Lang had a rough time with RKO head Howard R. Hughes, who insisted upon making changes in the film that might have hurt it irreparably. The biggest argument centered over the title; Hughes complained that no one overseas would understand the meaning of Chuck-a-Luck, whereupon Lang riposted sarcastically that "I'm sure that everyone will understand Rancho Notorious." One of the principal villains was Lloyd Gough, but you'd never know it from the opening titles; Hughes, incensed that Gough had refused to testify at the HUAC "witch hunt," ordered that the blacklisted Gough's name be removed from the credits.
Critic Reviews for Rancho Notorious
Audience Reviews for Rancho Notorious
½
Good western with a most unexpected leading lady. Predating Johnny Guitar by two years this film echoes that with its female lead being the ringleader of a tough mob but doesn't have that movies atmosphere or strong female counterpart. What it does have is Marlene holding center stage as only she could and a pair of capable costars in Mel Ferrer and the always terrific Arthur Kennedy..
½
it's not a bad film but it's not as much fun as destry rides again or the very similarly themed johnny guitar. also that 'chuck-a-luck' song got really annoying. i like arthur kennedy alright but he's a bit blah here and at 51 marlene is pushing it. i guess i just expected more from lang. obviously westerns weren't his strong suit
Stella Dallas
Super Reviewer
Rancho Notorious Quotes
There are no approved quotes yet for this movie.