Random Harvest
(1942)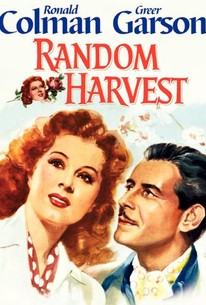 Movie Info
At the close of World War I, shell-shocked amnesia victim Ronald Colman is sequestered in a London sanitarium; with no identity and no next of kin, he has nowhere else to go. Unable to stand the loneliness, Colman wanders into the streets, then stumbles into a music hall, where he is befriended by good-natured entertainer Greer Garson. That Colman and Garson fall in love and marry should surprise no one; what is surprising, at least to Colman, is that he discovers that he has a talent for writing. Three years pass: while in Liverpool to sell one of his stories, Colman is struck down by a speeding car. When he comes to, he has gained full memory of his true identity; alas, he has completely forgotten both Garson and their child. Returning to his well-to-do relatives, Colman takes over the family business. Having lost her child, the distraught Garson seeks out the missing Colman. Psychiatrist Philip Dorn helps Garson, advising her that to reveal her identity may prove a fatal shock for her husband. To stay near him all the same, Garson takes a job as Colman's secretary. "Strangely" attracted to Garson, Colman falls in love with her all over again. Will there be yet another memory lapse? Under normal circumstances, we wouldn't believe a minute of Random Harvest, but the magic spell woven by the stars and by author James Hilton (Lost Horizon, Goodbye Mr. Chips etc.) transforms the wildly incredible into the wholly credible (just one quibble: isn't Colman a bit long in tooth as a "young" World War I veteran?) The film was one of MGM's biggest hits in 1942--indeed, one of the biggest in the studio's history.
Critic Reviews for Random Harvest
Audience Reviews for Random Harvest
½
I'd heard of this film's reputation long before I ever had the chance to see it. Within minutes I could see that the work was unabashedly manipulative and meant to be a chick flick, seriously. Well it is. A serious chick flick. On steroids. And, as such, it demands immeadiate rejection. And yet ... I watched until the end. Oy vey. Greer Garson and Ronald Colman are appropriately magnetic.
Kevin M. Williams
Super Reviewer
A WWI amnesiac falls for a dancer, but their marriage fails when he loses his new memories and regains his old ones. The plot of this film is excellent in its construction, but its execution lacks. The initial courtship between "Smithy" and Paula is so quick and seemingly insubstantial that it defies believability that she should so quickly give up her life for him. This is the "old movies" courtship that involves women and men speaking about marriage after the first or second meeting, but here it is more ridiculous considering the uncertainty of the man's position. What is more, the final resolution comes about solipsistically rather than spurred by the "secretary's" work. A good opportunity for a compelling scene is ignored, and the film suffers for it. The performances by Greer Garson and Ronald Colman are strong, and Garson's charms are on display both in her role as alluring dancer/singer, as efficient secretary, and as notable society wife. Overall, the performances and the basic outline of the story buoy the film, which could have taken more time to develop its characters.
Jim Hunter
Super Reviewer
This has got to be the most depressing movie I have ever seen. Not in a bad way either. Beautiful film, with the stellar grace of Greer Garson and the fumblings of Ronald Colman, it's the most romantic movies that doubles as a tear jerker that I have ever watched.
Spencer S.
Super Reviewer
Random Harvest Quotes
There are no approved quotes yet for this movie.