Rango
(2011)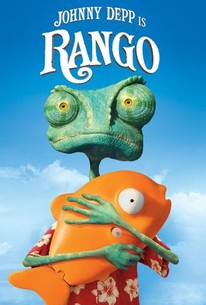 TOMATOMETER
AUDIENCE SCORE
Critic Consensus: Rango is a smart, giddily creative burst of beautifully animated entertainment, and Johnny Depp gives a colorful vocal performance as a household pet in an unfamiliar world.
Movie Info
Rango is a sheltered chameleon living as an ordinary family pet, while facing a major identity crisis. After all, how high can you aim when your whole purpose in life is to blend in? When Rango accidentally winds up in the gritty, gun-slinging town of Dirt - a lawless outpost populated by the desert's most wily and whimsical creatures - the less-than-courageous lizard suddenly finds he stands out. Welcomed as the last hope the town has been waiting for, new Sheriff Rango is forced to play his new role to the hilt... -- (C) Paramount
News & Interviews for Rango
Audience Reviews for Rango
Its...Very...Weird, But in a good way, Depp did a fantastic job as Rango, along with Bill Nighy as the snake, and Ned Beatty as the mayor, Though my only problem is that, well one its very weird and by weird i mean, weird like its never mentioned again, like the tunnel in willy wonka, And there is al ot of stuff that could be skipped over and it wouldnt have made a difference on the plot, Half the animals i couldn't tell what they were. But the movie was just decent overall, its at least worth seeing once but its a movie that you have to make your mind up for yourself, the weirdest part however is when Clint Eastwood (known as the spirit of the west) Appears in a vision or something to rango. Its a very strange movie and is definetly not for kids, There are several sexual references, And 9 uses of hell and one point the snake says "Sign the Damn Paper!!!!" But it pays homage to some of the old western movies with a funny little reference to "Fear and Loathing in Las Vegas" Which is also funny knowing how Depp was also in that movie. All in all a fairly decent movie with some good action, plot, and some good comedy 4.5/5 * Review Originally Written 3/6/2011
Michael Edwards
Super Reviewer
George Lucas' company ILM proves to be a match for Pixar with their first animation, a dazzling fun ride that is also an entertaining homage to Westerns and the Italian spaghetti subgenre, deliciously subverting the figure of the anti-hero in a story with many welcome references.
Carlos Magalhães
Super Reviewer
[img]http://images.rottentomatoes.com/images/user/icons/icon14.gif[/img] I wasn't expecting Rango to be any good when I first saw the trailer a while back. It looked to me like your typically smug production line animated film that was soon to be forgotten in everyones minds. I was wrong. Rango is a terrifically clever film that will entertain both children and parents alike. The voice over performances are all around great. Johnny Depp shows great enthusiasm for the titular role and it also makes references to Johnny Depp's previous enigmatic dream like picture "Fear And Loathing In Las Vegas". For me that reference was a hilarious in-joke. Like Fear And Loathing Rango is visually creative, eye popping and surrealist and mysterious with just enough substance addressing environmental issues to balance itself out with the bright colours and animated environments. There were two sex references in it that may put some off, but I think this is slightly more of an adult film than a children's slapstick comedy. I loved it much more than I thought I would, and I think it was the biggest surprise of 2011.
Directors Cat
Super Reviewer
Rango Quotes
| | |
| --- | --- |
| Roadkill: | Good luck amigo. You'll need it. |
| | |
| --- | --- |
| Rango: | You want something to believe in? Believe in me! |
| | |
| --- | --- |
| Rango: | For as long as we have water, we have a town. |
| Mayor: | Mr. Rango is right, as long as we have water we have some hope. |
| | |
| --- | --- |
| Doc: | This hawk...is dead! |
| Waffles: | Circle of life. |