Raptor
(2001)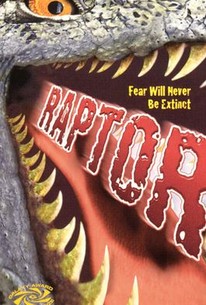 AUDIENCE SCORE
Critic Consensus: No consensus yet.
Movie Info
This direct-to-video variation on Jurassic Park tells the story of small-town sheriff Jim Tanner (Eric Roberts), who must team up with animal expert Dr. Hyde to discover what has been causing a series of mysterious mutilations. When they discover that dinosaurs are alive and well in their town, the duo must team up to stop the mad scientist responsible for their existence. Corbin Bernsen and Melissa Brasselle co-star in this sci-fi action film directed by Jay Andrews (The Bare Wench Project).
Critic Reviews for Raptor
Audience Reviews for Raptor
So really Carnosaur is my all time favorite movie I love it for all the wrong reasons the sequels a re really bad and then it gets its first spin-off Raptor and it is god awful and one of the worst movies ever made and you thought jaws 4 was bad. No going to waste a lot of time writing this so Take footage from all 3 Carnosaur films hire some really bad actors and film some new scenes and you get raptor the film with out a story just using the story from the first and second to make this. Along with footage from the dinosaur scenes in all the films. 0% for story it is really bad and unwatchable to watch truth be told there is no story. 0% for acting it is some of the worst I have ever seen there people think they are awesome or something. 0% for special effects there are none just stock footage from the other films 0% for characters they are some of the worst and underdeveloped I have ever seen 0% for everything else Trust me don't watch this to me this is not a movie and don't waste your time. Keiko's score 0-100
Raptor Quotes
There are no approved quotes yet for this movie.