Rasputin, the Mad Monk
(1966)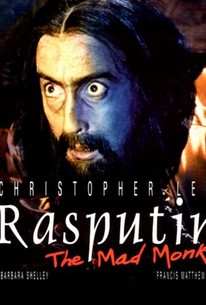 Rasputin, the Mad Monk Photos
Movie Info
The life story of the legendary Russian mystic Grigori Rasputin gets the highly fictionalized Hammer Films treatment with this liberal mix of horror and history that presents the mysterious sage as a demonic, otherworldly creature. Christopher Lee stars as the titular monk, who gains entrée to the world of the tsar by casting a hypnotic spell on two courtiers, Dr. Zargo (Richard Pasco) and the beautiful Sonia (Barbara Shelley). Becoming a trusted aide and confidant of the tsarina (Renee Ashershon), Rasputin threatens the national power structure. After Sonia kills herself, Zargo resolves to kill the interloper, but stabbing, poisoning, and even bullets don't seem to be able to kill the diabolical Rasputin.
Critic Reviews for Rasputin, the Mad Monk
Audience Reviews for Rasputin, the Mad Monk
½
Made back to back with 'Dracula Prince of Darkness' this gives Lee a chance to break away from the Count and he really lets rips with this role. Certainly one of his better Hammer films this isn't really a full-blown horror but the story of Rasputin's rise to power and his brutal ending moves along at a brisk pace and the film looks beautiful. Shelley (a Faye Dunaway lookalike) is a great co-star and the rest of the cast all do well and look like they're enjoying themselves. If not classic Hammer it's still worth catching for Lee's performance.
David Sayers
Super Reviewer
½
Enjoyable take on the Rasputin story which neglects historical accuracy in favour of a more sinister supernatural story which see's the mad monk use his hypnotic powers to weed his way up to power via the Russian royal family. It's not one of Hammer's best offerings but it's entertaining while it lasts with Christopher Lee having fun in the lead role.
Rasputin, the Mad Monk Quotes
There are no approved quotes yet for this movie.