Ratatouille
(2007)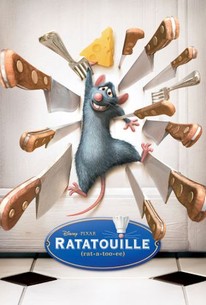 TOMATOMETER
AUDIENCE SCORE
Critic Consensus: Fast-paced and stunningly animated, Ratatouille adds another delightfully entertaining entry -- and a rather unlikely hero -- to the Pixar canon.
Movie Info
In the hilarious new animated-adventure, Ratatouille, a rat named Remy dreams of becoming a great chef despite his family's wishes and the obvious problem of being a rat in a decidedly rodent-phobic profession. When fate places Remy in the city of Paris, he finds himself ideally situated beneath a restaurant made famous by his culinary hero, Auguste Gusteau. Despite the apparent dangers of being an unwanted visitor in the kitchen at one of Paris' most exclusive restaurants, Remy forms an unlikely partnership with Linguini, the garbage boy, who inadvertently discovers Remy's amazing talents. They strike a deal, ultimately setting into motion a hilarious and exciting chain of extraordinary events that turns the culinary world of Paris upside down. Remy finds himself torn between following his dreams or returning forever to his previous existence as a rat. He learns the truth about friendship, family and having no choice but to be who he really is, a rat who wants to be a chef.
Critic Reviews for Ratatouille
Audience Reviews for Ratatouille
Ratatouille is another brilliant Pixar outing that features a great story, wonderful animation, a varied cast of talented actors that brings the character to life, and it has some terrific humor. Pixar are truly wonderful in making some memorable animated feature films that really resonate with the viewer. Ratatouille is yet another fine picture that is highly entertaining from start to finish, and it is a film that is a must see for fans of previous Pixar films. Animated features are always great to watch because; they have a unique to quality to them that makes them a truly memorable viewing experience. With Ratatouille, Pixar have taken a simple idea, and crafted a thoroughly entertaining film experience that stands out. From start to finish, the film is entertaining, fun, and memorable because, the simple nature of the story, mixed with wonderful animation and great voice acting, you have a film that is a feat of animation. I love Pixar films, and it's hard to pick a favorite, because every film the studio has made has really stood out, but if you're wondering, Ratatouille continues the tradition of the studio to release quality films, and are a studio that have only made one lacking picture. Here, we have a film that is beautifully made, tells a simple, yet thoroughly engaging story that is never dull, and always amusing. Ratatouille works well, and is a picture that is brilliantly directed and is a film that will appeal to viewers of all ages. This is a superb animated feature, one that is yet another fine addition to Pixar's outstanding catalogue of great movies. If you want a fun, entertaining animated film, Ratatouille is a solid and safe bet to watch, as it has all the key elements that have made Pixar's films something to behold.
Pixar's latest installment is a recipe of success. Ratatouille is bold and classy with the flare of European culture. Patton Oswalt's adventurous critter spices a flamboyant film with an interesting plot and dynamic delivery. 4/5
Eugene Bernabe
Super Reviewer
This was a charming movie that was a great time for me and my daughter.
John Manard
Super Reviewer
Ratatouille Quotes
| | |
| --- | --- |
| Remy: | Paris? All these times I've been underneath Paris? |
| | |
| --- | --- |
| Gusteau: | A chef makes. A thief takes. |
| | |
| --- | --- |
| Skinner: | Remy: What... Are you eating? Emile: I don't really know. I think it was some sort of... rapper once. |
| Remy: | What... Are you eating? |
| Emile: | I don't really know. I think it was some sort of... rapper once. |
| Emile: | I don't really know. I think it was some sort of... Wrapper once. |
| | |
| --- | --- |
| Django: | This is the way things are. You can't change nature. |
| Remy: | Change *is* nature, Dad. The part that *we* can influence. And it starts when we decide. |