Ratchet & Clank
(2016)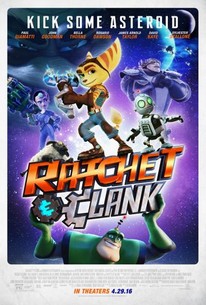 TOMATOMETER
AUDIENCE SCORE
Critic Consensus: Ratchet & Clank may satisfy very young viewers, but compared to the many superior options available to families and animation enthusiasts, it offers little to truly recommend.
Movie Info
Ratchet and Clank tells the story of two unlikely heroes as they struggle to stop a vile alien named Chairman Drek from destroying every planet in the Solana Galaxy. When the two stumble upon a dangerous weapon capable of destroying entire planets, they must join forces with a team of colorful heroes called The Galactic Rangers in order to save the galaxy. Along the way they'll learn about heroism, friendship, and the importance of discovering one's own identity.
News & Interviews for Ratchet & Clank
Critic Reviews for Ratchet & Clank
Audience Reviews for Ratchet & Clank
½
Only ever played the game once but it seemed like it was loyal to the games, It was just not funny though all the jokes were recycled from other movies and the plot wasn't anything new, Some good animation action scenes but nothing different or memorable, With quite a strong voice cast the film should of been better, I can't comment on the 3D as I watched the 2D version, If you're a hardcore fan of the games or under the age of 10 you will probably love it but the rest of us it will just mainly bore us.
Jamie Clarke
Super Reviewer
½
I've been playing video games, almost, my entire life. It's one of my favorite hobbies. To give you a bit of perspective, I've owned a Super Nintendo, Sega Game Gear, Game Boy, Game Boy Color, Game Boy Advance, 3DS, N64, GameCube, Wii, Dreamcast, PS1, PS2, PS3, PS4, the original Xbox, Xbox 360, I also even owned a Virtual Boy. Which, if you're a longtime fan, you know was one of Nintendo's biggest failures. The point is that I've spent, or for most of those systems my mother did since a lot of those where in my childhood, thousands upon thousands of dollars on game consoles and, obviously, games for those devices. Which brings me to the fact that I'm disappointed that there has been no good adaptation of a video game ever. Period. There's a Sean Spicer joke for you. Except I told the truth. I'm topical. Many people say that Wreck-it Ralph is the best video game movie ever made and they're certainly right. But it's not a proper adaptation of an actual game, it's just inspired by gaming, and it's a pretty damn great movie at that. As far as Ratchet and Clank, I only played one game in the franchise and that was on the PS3. Back when the series was in its heyday and the peak of its critical and commercial success, in the PS2, I never actually played any of them. I was more of a Jak and Daxter guy, I owned the original trilogy for PS2. But Ratchet and Clank game I did play I legitimately enjoyed. A lot of people, at the time, thought of Ratchet and Clank as if you were playing a Pixar movie. It was funny, the characters were likable and the gameplay was fun. I don't wanna say that playing the game felt as if you were playing a Pixar movie, but I kinda get what they were saying. And I felt that the game would make a smoother transition to a movie than others. That's mostly because the fact that it'd have to be a CGi movie, but the fact is also that the characters and the story seem suited for that transition. But, if I'm being perfectly honest, this movie is just no good whatsoever. I've certainly seen worse, particularly video game movies, but there's just nothing about this movie that I liked. There's a few laughs here and there, but they're more chuckles as opposed to laughs. This comes across like a movie that was just released because they had been talking about it for years and, eventually, just decided to release the first thing they could that could pass for a feature-length film. And this is what we got. A lifeless husk of a film. They use lots of color to disguise the fact that the movie doesn't really have much in the way of substance. The story is simple enough. Ratchet wants to join this group of intergalactic rangers who protect the galaxy from villains who want to destroy it. Ratchet gets to meet his idol, Captain Qwark, who ends up being a vainglorious fool. The villain wants to create his own planets, which he achieves by taking pieces from other planets he destroys. For what reason does he want to do this, I have no fucking idea. Just because. But, of course, he isn't the real villain and he's being manipulated by somebody else to do his bidding. You also get to see the origin of Ratchet and Clank's friendship. Very simple story, but that's not really the problem. In fact, with this type of movie, simplicity is sort of one of the most important things. But there's no reason that that should be a limiting factor. There's no reason you still can't find an angle to tell an entertaining story in this context. But they don't. They do what they think people want to see, not what people ACTUALLY want to see. They're being far more pandering in hoping to appeal to both the fans of the game and people who may have not been familiar with the game. But, sadly, you can't please everybody and this movie, trying to bring everybody together, failed to have its own identity. It doesn't even feel like the video game it is based on, other than it features a lot of the same characters. That's the only thing it has in common. There's a few laughs. Like Dr. Nefarious and Qwark arguing about one-liners and how to use them, but that's all I can really remember. This really would have been better served as a straight-to-DVD movie, there's just nothing here of substance and I feel that people, who're fans of the franchise, wouldn't have had such high hopes for the movie. Oh and Paul Giamatti and John Goodman voice characters here as well. They're both pretty good, but they're only here so they can boast they have some name actors in the film and use them to promote the film. Long story short, this movie isn't very good, not even if you're a hardcore Ratchet and Clank fans. You're better served playing the games all over again, they're surely better.
Jesse Ortega
Super Reviewer
½
Based on the hit video game series, Ratchet and Clank is about a Lombax wanting to do more with his life as he comes across a defect robot who warns others that the galaxy is in danger. Now the video game franchise is one of my favourites of all time, I own every game and have completed them multiple times so I was pretty excited about this film. looking at the trailer, I could tell this was going to be aimed for kids or fans of the series, anyone else outside of that niche will not enjoy this...I however thought it was enjoyable for what it was. The voice acting was spot on, with some celebrities such as Paul Giamatti and Sylvester Stallone joining in with the original voice actors...it blended in well! The animation was pleasant, obviously not going to compete with Pixar but the animation was never bad at any point. The script was hit or miss, too may one liners as it tries to be funny and unfortunately misses quite often...probably great for kids but rather tiresome for anyone else. The story is far too quick paced for any character or emotional investment which is a shame because if this film did well it could've started a franchise. A great thing that this film has is easter eggs, there are so many of them for the fans that it really did put a smile on my face...but for anyone else they would've been overlooked. This film did coincide with the reboot game that was released also this year, unfortunately the game is way better but this is not the worst video game adaptation which is the best thing I can say. Overall, Ratchet and Clank is a nice animated film for kids and fans but for anyone else it is a rather hollow film that just moves too fast. - Reviewed by: http://www.themoviediorama.com
Luke Andrews
Super Reviewer
Ratchet & Clank Quotes
| | |
| --- | --- |
| Qwark: | If you have heart, you have what it takes |
| Qwark: | If you have heart, you have what it takes. |
| | |
| --- | --- |
| Ratchet: | The rangers are actually my, uh... Friends! Why do you think I have so many pictures of them? |
| Ratchet: | The rangers are actually my, uh... friends! Why do you think I have so many pictures of them? |
| Clank: | But why are you not in any of them? |
| Ratchet: | Well, somebody had to hold the camera, right? I even have a ship! |
| | |
| --- | --- |
| Clank: | Blaming yourself and taking full responsibility are two very different things. |
| | |
| --- | --- |
| Qwark: | Everyone stay calm. Something epic is happening! |