Ravenous
(1999)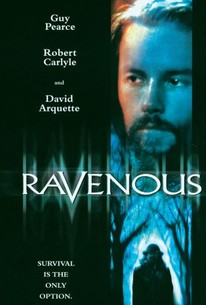 TOMATOMETER
AUDIENCE SCORE
Critic Consensus: Ravenous tries bringing cannibal horror into an Old West setting, ending up with an uneven blend that will fail to satisfy most fans of either genre.
Movie Info
In 1847, many Americans made the journey across our continent in search of gold. Many failed to complete the journey or see their dreams come to light. Capt. John Boyd (Guy Pearce) found his way here thanks to an act of cowardice during the Mexican-American War; he has been banished to a desolate military outpost in California's Sierra Nevada mountains. Upon his arrival, he is greeted by a rag-tag group of soldiers manning the fort: Hart (Jeffrey Jones), the despondent commanding officer; Toffler (Jeremy Davies), the company chaplain; Knox (Stephen Spinella), the drunken doctor; Reich (Neal McDonough), the only real soldier of the group; and Cleaves (David Arquette), the heavily medicated camp cook. One day, Colqhoun (Robert Carlyle) stumbles into their camp. The half-starved Scotsman had been traveling with a group of settlers until they were snowbound. Unable to move forward, they took refuge in a cave, where once they ran out of food, they were forced to resort to cannibalism. Colqhoun barely escaped the madness -- or did he? Boyd and the soldiers hear of the old Indian legend of the Wendigo, which states a man who tastes the flesh of another steals that man's strength, spirit and essence. His hunger, however, will become an unstoppable craving. Like a vampire, the more he eats, the more he wants, and the stronger he will become, with death the only escape from the madness. The soldiers are soon drawn into the frenzy and Boyd is soon left with the choice of eating or being eaten. ~ Ron Wells, Rovi
Critic Reviews for Ravenous
Audience Reviews for Ravenous
Unjustly maligned upon its release, 'Ravenous' is a unique, atmospheric and stingingly funny horror-comedy with a splendid ensemble cast. Cannibalism is a subject that can cause nausea in most people but it is handled with a deft comedic touch in Ted Griffin's shrewd screenplay. Despite the production troubles, Bird is firmly adept at scenes of high-voltage action (such as the final duel between Boyd and Ives), quirky humor (Toffler's zealot shtick is always amusing) and grandiose horror (the descent into the catacombs is genuinely nerve-racking). The quixotic tone is set immediately with a food-related quote from Ben Franklin followed by the anonymous citation "eat me". Carlyle was such a preening disappointment as a Bond villain in 'The World is Not Enough'. However, he is unfathomably urbane and demonic as Ives who feigns insanity in order to lull his hosts into a false sense of security before he voraciously devours them. The wintry landscape of the outpost seamlessly heightens the isolationist dread. With a bevy of wry one-liners ("Breakfast. Lunch. Reinforcements.") and unsettling themes about the "wendigo" power of replenishing one's lifeforce, 'Ravenous' is a unsullied jewel in Griffin's work.
Cory Taylor
Super Reviewer
"If you die first, I am definitely going to eat you, but the question is, if I die, what are you going to do? Bon appétit... Eat or die." Captain John Boyd's promotion stations him at a fort where a rescued man tells a disturbing tale of cannibalism.
REVIEW
Captain John Boyd (Guy Pearce) has just arrived at Fort Spencer, a "reward" of sorts for his display of cowardice during the Spanish-American war. The fort is manned by a drunk, a pothead, a Native American woman and her brother, a goofy young chaplain, a nonchalant Colonel and a half-crazed soldier named Reich. Shortly after Boyd's arrival, a frostbitten man appears one night out of the snowstorm and is taken in. After a quick and miraculous recovery, the man, a Scotsman name of Colqhoun, tells a harrowing tale. He and a party of five others had been stranded in a snow storm and took refuge in a cave. When their food ran out, they turned to cannibalism. Colquhoun claims to have escaped before he too could be eaten. The men of Fort Spencer quickly mobilize and, guided by Colqhoun, they head off to search for survivors. But, too late, they discover that there are no survivors. Colqhoun is a ravenous cannibal, and may possibly be a mythical beast called Wendigo. Only the cowardly Boyd survives the bloody ambush...but will he conquer the cannibal, or join him? This is a bitterly black comedy, a weird combination of the Donner Party tragedy, the legend of Scottish cannibal Sawney Bean and the 1978 version of Dawn of the Dead with its comments on consumerism. This film did poorly at the box office due to bad advertising, which is a shame because it's a very well made, well acted and well scripted movie with a cleverly insane soundtrack to boot. Everyone delivers quirky, standout performances, especially Robert Carlyle as the cannibal, playing him as an unhinged Charles Manson type one moment and a cultured, elegant gentleman the next. His performance is totally riveting and shockingly funny at times. The humor in this movie will not be to everyone's taste (no pun intended). It is still a movie about cannibalism and features some bloody, gross-out gore, so be warned. But, if you have a strong stomach and a sick sense of humor, you won't want to miss this film.
Lorenzo von Matterhorn
Super Reviewer
A completely psychotic take on the windigo story. The cannibal aspect was really interesting and made the story all the more creepy. Guy Pearce and Robert Carlyle were great, especially their scenes together. The music was really different, but went well with the tone of the film.
Conner Rainwater
Super Reviewer
Ravenous Quotes
There are no approved quotes yet for this movie.